TaPaell'Ya
Delivers Authentic Spanish Tapas in Cool Stylish Surroundings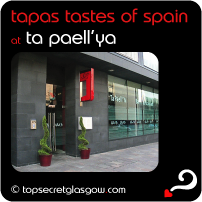 ---
EAT

tapas

in a

restaurant
---

why should you go?...
Ask us to mention a Spanish stunner and we might say Penelope Cruz. But we're far more likely to mention TaPaell'Ya, hidden in Glasgow city centre and delivering the most authentic tapas in stylish and chic surroundings. Friendly staff happily answer any questions about the excellent menu, and deliver the memorable tapas in great style.
---

who goes there?...
Business people, shoppers, knowledgeable locals.

what's it like inside?...
Stylish and chic, cool and contemporary, TaPaell'Ya is hidden round the corner from the main entrance to the SAS Radisson Hotel. When you find it, though, the cool dark wood decor is dramatically challenged by the scorching scarlet details and shining white tablecloths. Modern Spanish music allows diners to relax into a wonderful dining experience.

how are the staff?...
Tapas might still be a relatively new dining experience in Glasgow, but locals have taken to it like ducks to water. This probably has something to do with their natural friendliness, and the way tapas eating means lots of sharing.
This natural friendliness is shared by the TaPaell'Ya staff, who happily answer questions about the interesting choices on the menu. They glide around efficiently without ever appearing rushed, bringing everything as soon as it's ready.

what's tasty on your plate?...
TaPaell'Ya has a really interesting menu, tempting diners with choices they might not have seen before. How does a taste of meatballs with almonds sound? Big fat langoustines drip with an absolutely devilish amount of gorgeous garlic, and the Spanish omelette melts in the mouth. Who could resist the grilled ham with artichokes? We certainly can't!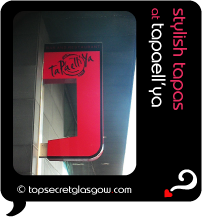 what's the speciality of the house?...
The specialities offered by TaPaell'Ya all come from the totally authentic nature of the dishes. Can you be sure you've not suddenly been transported to Madrid or Seville? Tasty chorizo castellano, garlicky seafood skewers and succulent cheese platters battle for your attention, and all deliver in spades.

what's good in your glass?...
The wine list offers a trip around the best Spanish vineyards, with sumptuous reds and deliciously sharp white to work on the palette and complement the amazing range of dishes you're about to tuck into. Of course, TaPaell'Ya has Cava on offer, and a naughty, fruity Sangria that always goes down a treat.

what else should you know?...
It is possible to arrange an exclusive booking of TaPaell'Ya, with seating up to about 50 lucky diners. This can be especially useful as part of corporate events, with the SAS Radisson accessible from the restaurant, leading to its meetings and seminar rooms.
TaPaell'Ya has a Spanish flamenco guitarist in-house for a couple of hours every Friday evening.
---

is it good value?...
TaPaell'Ya offers wonderful service in chic surroundings without diners having to dig too deep. Remember that all the sharing that goes on while enjoying tapas means that everyone's culinary experience is multiplied.
Look out for occasional offers which give a set price per head for a specific number of tapas choices and a glass of wine.
Lunch for a set price from a smaller menu is available.

price check?... [ ? ]
| | | |
| --- | --- | --- |
| Lunch | | ££ |
| Set Lunch | | ££ |
| | | |
| Dinner | | ££ |
| Set Dinner | | - |
| | | |
| Pre-theatre | | - |
| Post-theatre | | - |
| | | |
| House Wine | | ££ |
---

when is it open?...
 food served

Mo 8:00 - 22:30

Tu 8:00 - 22:30

We 8:00 - 22:30

Th 8:00 - 22:30

Fr 8:00 - 22:30

Sa 18:00 - 22:30

Su  closed
---

location, location, location...


Radisson SAS Hotel, Robertson Street, Glasgow G2 8DL
(nearest cross street: Argyle Street)
View Larger Map

getting there...
| | | | |
| --- | --- | --- | --- |
| | parking | | |
| | private | | |
| | public | Oswald Street (NCP) | walk in 5 |
| | rail | | |
| | underground | St Enoch | walk in 5 |
| | overground | Glasgow Central | in the hood! |
---

phone...
+44 (0) 141 225 2047 / main


web...
visit their website



email...
---

web booking...
book at their website



email booking...
not available
---

[CONFIDENTIAL]
We are always working on all sorts of new features at topsecretglasgow.com - including highlights of the most buzzing events and the local low-down on those streets and areas with the best of Glasgow.

We'll reveal the top secrets that many locals don't even know and steer you to the wonderful things that often lie in the shadows of the classic places in Glasgow.

If you want to be first onto these new top secrets, then just use the simple form below to pass us your email address and first name. We'll be in touch... "confidentially"!

---