The Arches Cafe Bar
Delivers a Show to Remember, Beneath the Arches Theatre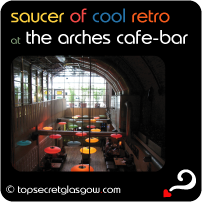 ---
EAT

Mediterranean

in a

cafe-bar
---

why should you go?...
The Arches Cafe Bar puts on a performance to satisfy. Hidden under the railway tracks into Central Station, the warm and welcoming, slightly retro décor is set off by bright reminders that guests are in a thriving theatre.
The food is beautifully prepared, with portions designed to keep everyone happy. The wine list has some unusual options, and all is delivered by smiling, friendly staff. Not the easiest place to find, but the effort in doing so is more than worth it.
---

who goes there?...
Office workers, theatre goers, party animals, locals in the know

what's it like inside?...
Tucked away under the railway lines into Central Station, and accessed from the Heilan'Mans' Umbrella, it's easy to miss The Arches. Once inside, you'll be glad you kept looking. Down at basement level, the retro feel of chocolate brown leather seats and wooden tables is off-set with warm, cosy lighting and lively photos of performances in The Arches.
Natural light floods in from above and behind the bar, and funky large multi-coloured shades are suspended low, to create a well defined space. And this space is quietly serenaded by the latest, cheery pop music and ballads.

how are the staff?...
Staff are young and laid back, smart in black 'Arches' outfits. The day's specials are pointed out promptly, and drinks are brought over double-quick. Smiling and efficient, they work the two joined-up dining spaces – Café Bar and Restaurant – as a team.
Check out the wine fridge hidden under the stairs, making life a little easier to serve the restaurant. Cute.

what's tasty on your plate?...
The Arches Cafe Bar and Restaurant food is varied, prepared with care and served in generous portions. Freshly made potato gnocchi may well tempt, as will the choice of burgers; beef, chicken, veggie or venison, cooked to juicy perfection and served up with crispy chips.
An American-style open baguette or a classic three-tiered club sandwich might be more your style. Or how about fresh steamed mussels with a choice of broth; try white wine and basil, tomato and parsley with a hint of chilli, or pesto cream and Italian bread. If you've still got room for more, have a look at the lovely list of tempting sides.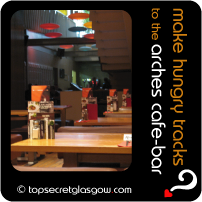 what's the speciality of the house?...
Specials change each day, and are on the blackboard. Wait staff will tell you about them, if you can't see that far. Or just pick yourself up and have a stroll across the wooden boards for a peek.

what's good in your glass?...
There is a decent wine list to choose from. Classic favourites like Pinot Grigio and Rioja are present and correct. But there are more unusual options, such as a Pinot Noir Tigress all the way from Tasmania, and a white and a red option of organic Fairtrade wine.
There is a useful cocktail list too, and of course you'll find a promising selection of draught and bottled beers and lagers to quench your thirst.

what else should you know?...
Ingredients are sourced locally whenever possible, and all seafood is guaranteed fresh and Scottish.
---

is it good value?...
Meals are high quality in the relaxing environment of The Arches Café Bar. And at extremely reasonable prices, too. Lunch prices help to keep this place a local favourite for those in the know.
Given the arts-related venue, enticing deals for pre-theatre dining can be hard to resist. Meals from the full dinner menu won't bring the curtain down early on your bank balance either.

price check?... [ ? ]
| | | |
| --- | --- | --- |
| Lunch | | ££ |
| Set Lunch | | - |
| | | |
| Dinner | | ££ |
| Set Dinner | | - |
| | | |
| Pre-theatre | | ££ |
| Post-theatre | | - |
| | | |
| House Wine | | ££ |
---

when is it open?...
 general opening

Mo 11:00 - 24:00

Tu 11:00 - 24:00

We 11:00 - 24:00

Th 11:00 - 24:00

Fr 11:00 - 24:00

Sa 11:00 - 24:00

Su 12:30 - 24:00
 food served

Mo 12:00 - 21:00

Tu 12:00 - 21:00

We 12:00 - 21:00

Th 12:00 - 21:00

Fr 12:00 - 21:00

Sa 12:00 - 21:00

Su 12:00 - 21:00
---

location, location, location...
253 Argyle Street, Glasgow G2 8dl
(nearest cross street: Oswald Street)

phone...
+44 (0) 141 565 1035 / main


web...
visit The Arches Cafe Bar website

email...
---

[CONFIDENTIAL]
We are always working on all sorts of new features at topsecretglasgow.com - including highlights of the most buzzing events and the local low-down on those streets and areas with the best of Glasgow.

We'll reveal the top secrets that many locals don't even know and steer you to the wonderful things that often lie in the shadows of the classic places in Glasgow.

If you want to be first onto these new top secrets, then just use the simple form below to pass us your email address and first name. We'll be in touch... "confidentially"!

---