The Brunswick
is a Merchant City Gem, Bringing Glasgow Chic Sophistication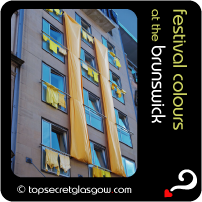 ---
STAY

in style

in a

boutique hotel
---

why should you go?...
A leading Merchant City light, The Brunswick hotel brings a minimalist chic with apparent ease. Stay in this lovely boutique hotel and relax, safe in the knowledge that this is the place to be. Rooms are quietly tasteful, offering wonderful value for money.
Enjoy the laid back bar, and take the chance to sit outside in one of Glasgow's most stylish streets. For an event or party, why not think about hiring the cool basement club, the posh duplex penthouse or just the cute glass-roofed mezzanine as the perfect venue?
---

who goes there?...
Business people, lovers of chic minimalist decor, independent travellers, LGBT people

what's it like inside?...
Occupying a prime position at the heart of the Merchant City, The Brunswick hotel is close to both city centre railway stations and mere minutes by car from the M8. Inside the hotel, the atmosphere is cosy and friendly. The contemporary minimalist décor adds an intimate, almost hushed tone to proceedings.
In reception, peek into the bar/restaurant and catch the bursts of laughter from relaxed guests. While not being a gay venue, The Brunswick is extremely popular with the Glasgow gay set. After all, a stylish hotel of this character is bound to attract those with the very best taste!

how are the staff?...
The Brunswick bears all the marks of being a quality, privately owned and run hotel. Small and well-formed, the hotel is spotlessly clean and clearly well cared for by staff.
There is a genuine, smiley welcome to greet guests in the compact reception area, and continued greetings when guests return from a trip into the city. This really makes guests feel like being in a home-from-home.

what's going on in your room?...
All 18 rooms are decorated in understated minimalist chic. All have en-suite shower rooms or bathrooms, and are turned out beautifully for guests. Richly bold colours are artfully combined with more muted tones and clean lines to quite dramatic effect. The hallways are a wonderful riot of strong colours and subtle lighting, contrasting beautifully with other elements of the overall hotel décor. The penthouse uses lots of wood and glass, for a light, airy feel.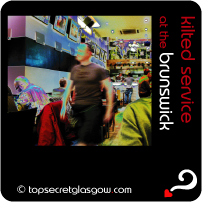 what's the speciality of the house?...
The buffet menus for events in the basement club or penthouse offer a wonderful selection, like chilli king prawn bruschetta, rosemary and garlic potatoes, and skewers with lamb marinated in yoghurt. The cool, calm air of presenting a chic establishment to The Merchant City is a speciality in itself.

what's good out of your room?...
The hotel bar restaurant is Brutti Ma Buoni. As the name suggests, there is an Italian influence. Feel like bruschetta with anchovy and chilli? Then you've come to the right place.
Other delights to tempt guests include home made pizza, known as Brutti Bread, and twelve types of good old fashioned toast. Interesting sandwiches, salads and baguettes keep everyone happy. There are getting on for 20 spaghetti dishes to choose from, and 8 different types of chips. The mezzanine level can be booked, allowing an intimate gathering of around a dozen happy diners.

what else should you know?...
There is a three-bedroom penthouse, over two levels, in The Brunswick. This can be used for receptions of up to 75 guests, and catering can be supplied.In the basement, the Basura Blanca club can be hired. The club has its own bar, sound system and DVD screen. Up to 100 guests can be accommodated.
Extra small beds for youngsters can be arranged.
There are a few tables outside, letting guests watch the sophisticated Merchant City life float by. It's also a prime spot to admire the gloriously remodelled Old Sheriff Court building, now home to the Scottish Youth Theatre and a smattering of luxury apartments, shops, bars, restaurants.
---

is it good value?...
Minimalist chic in the Merchant City sounds expensive, but prices at The Brunswick are per room, not per person. Hire of the penthouse or basement club for an event or catered party offers excellent value for money.
---

when is it open?...
 general opening

Mo 12:00 - 24:00

Tu 12:00 - 24:00

We 12:00 - 24:00

Th 12:00 - 24:00

Fr 12:00 - 24:00

Sa 12:00 - 24:00

Su 12:30 - 24:00
 food served

Mo 12:00 - 22:00

Tu 12:00 - 22:00

We 12:00 - 22:00

Th 12:00 - 22:00

Fr 12:00 - 22:00

Sa 12:00 - 22:00

Su 12:00 - 22:00
 drinks served

Mo 12:00 - 24:00

Tu 12:00 - 24:00

We 12:00 - 24:00

Th 12:00 - 24:00

Fr 12:00 - 24:00

Sa 12:00 - 24:00

Su 12:30 - 24:00
---

location, location, location...
106-108 Brunswick Street, Glasgow G1 1TF
(nearest cross street: Wilson Street)

phone...
+44 (0) 141 552 0001 / main
+44 (0) 141 552 1551 / fax

web...

email...
---

[CONFIDENTIAL]
We are always working on all sorts of new features at topsecretglasgow.com - including highlights of the most buzzing events and the local low-down on those streets and areas with the best of Glasgow.

We'll reveal the top secrets that many locals don't even know and steer you to the wonderful things that often lie in the shadows of the classic places in Glasgow.

If you want to be first onto these new top secrets, then just use the simple form below to pass us your email address and first name. We'll be in touch... "confidentially"!

---