Tron Victorian Bar
Plays to Diners With Treats Prepared With Care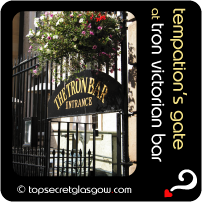 ---
EAT

Scottish

in a

restaurant
---

why should you go?...
Visit the Tron Victorian Bar and soak up the astonishing energetic vibe that bursts from the theatre. In a unique space in the centre of The Tron, enjoy Scottish cuisine from ever-changing menus. The original Victorian bar plays host to interesting bin ends that will help the evening along nicely.
Whether you take to the boards for a business lunch or dinner, a break from a shopping spree or to enjoy a pre-theatre treat, the Tron Victorian Bar will have you applauding your meal.
---

who goes there?...
Theatre goers, trendies, romantic couples.

what's it like inside?...
The Tron is a gem in the Merchant City crown, and there is an electric energy-buzz in the Victorian restaurant. This is especially true on performance nights, where diners could almost cut the atmosphere with their dinner knives. The Tron Victorian Bar is in the centre of The Tron, and features the original bar, from – wait for it - when The Tron opened in Victorian times.
Wood features strongly in the decor, from the bar itself to the tables and striking beams across the ceiling. Subtle lighting suffuses the restaurant in a warm and welcoming golden glow.

how are the staff?...
Staff are kept busy in the Tron Victorian Bar. They seem to be swept along with the overall 'busting with life' energy that oozes from The Tron. There is plenty of space between tables, and staff bustle about their business while also looking after the bar from time to time.
Expect to be asked whether or not you're going to that night's performance; you might even be told about up-coming events, while any specials are being explained.

what's tasty on your plate?...
A quality dining experience awaits you in the Tron Victorian Bar. The main menu changes regularly, according to what's fresh, and might include crisp duck leg and Ayrshire bacon with shallot and spice vinaigrette to start. This could well be followed by a vegetarian option of wild Scottish field mushrooms and leek filo basket with sweet soy dressing. As you'd expect, there is a pre-theatre menu, also offering quality choices from a Scottish and fresh range, all prepared with great care.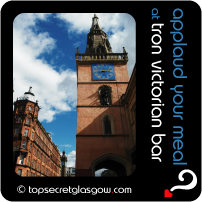 what's the speciality of the house?...
There are no signature dishes in the Tron Victorian Bar. However, the obvious care taken in the preparation of the dishes, and the truly unique atmosphere on performance nights are specialities in their own right.

what's good in your glass?...
There is a good selection of wines to choose from in the Tron Victorian Bar. These range from old French and Spanish favourites to newer bottles that have yet to find fame on the vintner's stage. No surprises you're in a theatre!
Best of all, the Tron Victorian Bar makes sure it has a selection of excellent bin ends available. What exactly is on offer changes, naturally. The bar itself is well stocked with draught and bottled lagers and beers.

what else should you know?...
The Tron puts on the best pantomime in Glasgow – by a long way. Demonstrating the wonderful Glaswegian humour, and with enough flash to keep the kids happy while delivering a mound of 'Carry On' double-entendres for the screaming-out-loud adults, it books up well in advance. Don't miss it.
There is a special Christmas menu each year too. So you can make a night of it in The Tron – dinner and a mighty laugh.
The Tron can get extremely busy, so booking ahead makes a lot of sense.
---

is it good value?...
The Tron Victorian Bar offers excellent value for money. For example, there are offers to make sure that any children in your party eat for extremely competitive fixed prices.
Soak up the palpable buzzing energy of The Tron, and don't expect to pay too much for the privilege. The pre-theatre option means that your evening of entertainment will be well worth the few pennies you part with.

price check?... [ ? ]
| | | |
| --- | --- | --- |
| Lunch | | £ |
| Set Lunch | | £ |
| | | |
| Dinner | | ££ |
| Set Dinner | | - |
| | | |
| Pre-theatre | | ££ |
| Post-theatre | | - |
| | | |
| House Wine | | ££ |
---

when is it open?...
 general opening

Mo 10:00 - 24:00

Tu 10:00 - 24:00

We 10:00 - 24:00

Th 10:00 - 24:00

Fr 10:00 - 24:00

Sa 10:00 - 24:00

Su 11:00 - 24:00
 food served

Mo 10:00 - 20:00

Tu 10:00 - 20:00

We 10:00 - 20:00

Th 10:00 - 20:00

Fr 10:00 - 20:00

Sa 10:00 - 20:00

Su 10:00 - 22:00
---

location, location, location...
63 Trongate, Glasgow G1 5hb
(nearest cross street: Chisolm Street)

phone...
+44 (0) 141 552 8587 / main
+44 (0) 141 552 4267 / box office

web...

email...
---

[CONFIDENTIAL]
We are always working on all sorts of new features at topsecretglasgow.com - including highlights of the most buzzing events and the local low-down on those streets and areas with the best of Glasgow.

We'll reveal the top secrets that many locals don't even know and steer you to the wonderful things that often lie in the shadows of the classic places in Glasgow.

If you want to be first onto these new top secrets, then just use the simple form below to pass us your email address and first name. We'll be in touch... "confidentially"!

---