Tron Bar
Offers a Super Selection of Favourite Pub Grub to Happy Diners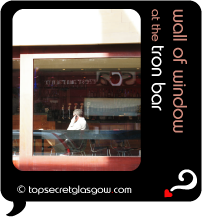 ---
DRINK

wine, spirits and beers

in a

pub/ bar
---
why should you go?...
Visitors to the Tron Bar have fun. Enjoy a quiet morning Fair Trade coffee while shopping and watch Chisholm Street float by. Prop up the bar and catch the banter, or enjoy decent pub grub favourites like fish and chips, macaroni cheese and juicy burgers while the excitement builds on performance nights.
The Tron has always been close to locals' hearts, and it's easy to understand why, when you experience the warmth and barely-contained energy in the bar.
---
who goes there?...
Locals, theatre goers, trendies
what's it like inside?...
The Tron Bar simply bursts with joie-de-vivre. Rub shoulders with people excitedly anticipating that evening's performance. Sit at the modern bar and catch the chat. Or take a seat by the enormous glass wall and watch the happenings out in Chisolm Street.
Cool, modern and bright, the Tron Bar is a popular hive of activity, and a fun place to catch the energetic Tron vibe. Close to the main shopping streets, it can also be a nice place to drop in for a caffeine pick-me-up.
how are the staff?...
Don't you just love it when staff know they have cool jobs in a funky place? That's the feeling in the Tron Bar. Staff dash around in a breezy manner, moving back and forth from the kitchen to the bar and tables, with energy. They need that energy, too, because it can get pretty busy in the Tron, especially on performance nights.
what's good in your glass?...
One benefit of being in the Tron Bar is that the bar can take advantage of the wine on offer in the Tron Victorian Bar, also in the Tron. So, in addition to the cool selection of designer bottled beers in the trendy bar, and the quaffable range of wine favourites on the wine list, guests might decide to sample one the crafty little bin ends that are available.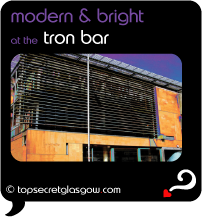 what's the speciality of the house?...
If there are any specials for the day, wait staff will let you know. The main speciality that Tron Bar delivers is an atmosphere of fun times and the spirit of living. If only it could be bottled and sold to us…
what's tasty on your plate?...
Tron Bar food is satisfying and delicious. Chicken liver pate with pear and apple chutney and oatcakes might get things started off. Then a juicy beef burger or veggie burger, a ciabatta sandwich or loaded baked potato will keep most diners happy. There are also salads and very filling mains like bangers and mash, macaroni cheese and red thai curry to tempt.
A chocolate tart may well finish you off (in the nicest possible way, of course). Vegetarians are well catered for, and there is a short menu for children. Most mornings, Fair Trade coffee and scones are available from 10am.
what else should you know?...
Booking in advance is recommended, especially when popular shows are running.
The Tron Theatre is often a venue as part of different festivals, and can get frantically busy at those times.
For large parties and events, the Tron Bar can be hired Sunday to Wednesday. Go along and be part of a truly lively, inspiring venue.
---
is it good value?...
There are very few quality establishments where children can eat one large course plus ice cream for next to nothing. The Tron Bar is one of them. Adults will be sated, on both the super pub grub and the energetic atmosphere, without wallets and purses feeling the pinch.
There is also great value in just popping in for a coffee or a bottle of beer and watching the Tron go busily about its business.
price check?... [ ? ]
| | | |
| --- | --- | --- |
| Lunch | | £ |
| Set Lunch | | - |
| | | |
| Dinner | | ££ |
| Set Dinner | | - |
| | | |
| Pre-theatre | | - |
| Post-theatre | | - |
| | | |
| House Wine | | ££ |
---
when is it open?...
 general opening

Mo 10:00 - 21:00

Tu 10:00 - 24:00

We 10:00 - 24:00

Th 10:00 - 24:00

Fr 10:00 - 24:00

Sa 10:00 - 24:00

Su 11:00 - 18:00
 food served

Mo 10:00 - 20:00

Tu 10:00 - 20:00

We 10:00 - 20:00

Th 10:00 - 20:00

Fr 10:00 - 20:00

Sa 10:00 - 20:00

Su 10:00 - 17:00
 drinks served

Mo 10:00 - 21:00

Tu 10:00 - 24:00

We 10:00 - 24:00

Th 10:00 - 24:00

Fr 10:00 - 24:00

Sa 10:00 - 24:00

Su 11:00 - 18:00
---
location, location, location...
63 Trongate, Glasgow G1 5hb
(nearest cross street: Chisolm Street)
phone...
+44 (0) 141 552 8587 / main
+44 (0) 141 552 4267 / box office
web...
email...
---
[CONFIDENTIAL]
We are always working on all sorts of new features at topsecretglasgow.com - including highlights of the most buzzing events and the local low-down on those streets and areas with the best of Glasgow.

We'll reveal the top secrets that many locals don't even know and steer you to the wonderful things that often lie in the shadows of the classic places in Glasgow.

If you want to be first onto these new top secrets, then just use the simple form below to pass us your email address and first name. We'll be in touch... "confidentially"!

---