Vroni's
is a Top Glasgow Wine and Champagne Bar; in a 1930s Paris Style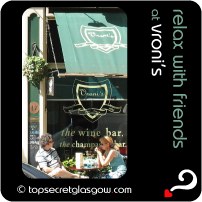 ---
DRINK

champagne and cocktails

in a

wine bar
---

why should you go?...
Vroni's is so resplendent in polished wood, large mirrors, chandeliers and cosy booths, it harks back to the sophistication of yesteryear. A combination of classic and more affordable champagnes, an interesting cocktail list and generous choice of wines makes this charming little wine bar one of the very best in Glasgow city centre.
---

who goes there?...
Romantic couples, after-office business people, pre- and post- theatre goers, youthfully mature folks.

what's it like inside?...
Vroni's is a class act. Sitting quietly on West Nile Street, clues to its elegance can be spotted in the dark green and gold painted exterior, and in the stylish logo on the windows. Inside, everything glows in the warm golden light, and guests relax to the sounds of contemporary and classic jazz and soul music. The large wooden bar dominates the right side of Vroni's.
Check out the impressive pillar on the bar corner, rising to the ceiling surrounded by ever more stacks of shining glasses and bottles of champagne. Elsewhere, chandeliers glitter above intimate booths lit by candles popped into champagne bottles and small tables that stand on the polished wood floor. The mezzanine level in the rear is a good place for groups of friends to gather.

how are the staff?...
Staff are dressed in simple black, and blend in beautifully with the overall feel in Vroni's. Cocktails are made to order, and staff go about this sometimes complicated business with calm efficiency. Any questions about the cocktail list are answered with a nod and a smile.

what's good in your glass?...
Where to start? Champagne always seems like a good place to start, and Vroni's helps things along very nicely indeed. There are several choices, from the very affordable House Champagne to a 1995 Dom Perignon. Wines are split by House, Red and White, with about a dozen bottles in each category. Wines from Europe appear as frequently are others from around the world.
Expect to take a while choosing a cocktail in Vroni's. There are so many to read about, from classics such as Bellini and Vodka Martini, to more unusual tipples. Names like Vronitini, Chocolatini and Vroni's Venezuelan Vibrator astound and amaze. You'll be dizzy before the first drink arrives.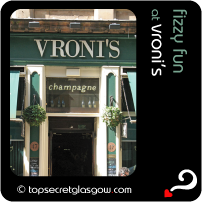 what's the speciality of the house?...
Vroni's describes itself as 'the champagne bar', and who's going to disagree? Relax with friends and a bottle of fun in one of the most cosmopolitan bars in the city centre.

what's tasty on your plate?...
Vroni's concentrates on liquid refreshments, and does a very good job, too! However, check out the blackboard for the day's bar food treats. These change daily, and might include a tasty loaded bruschetta or a Ceaser salad to go with your gorgeous wine.

what else should you know?...
Close to the Royal Concert Hall, the Pavilion Theatre and the Theatre Royal, Vroni's is the perfect spot for a pre or post theatre glass of something special.
---

is it good value?...
The drinks available in Vroni's can come to your table without breaking the bank. House wines and champagne are very good value. Of course, you might be on a Big Date and feel like a treat - in which case a bottle of Bollinger might be called for. Either way, Vroni's will oblige.

price check?... [ ? ]
| | | |
| --- | --- | --- |
| Lunch | | - |
| Set Lunch | | - |
| | | |
| Dinner | | - |
| Set Dinner | | - |
| | | |
| Pre-theatre | | - |
| Post-theatre | | - |
| | | |
| House Wine | | ££ |
---

when is it open?...
 drinks served

Mo 10:00 - 23:00

Tu 10:00 - 24:00

We 10:00 - 24:00

Th 10:00 - 24:00

Fr 10:00 - 24:00

Sa 10:00 - 24:00

Su 16:00 - 23:00
---

location, location, location...


47 West Nile Street, Glasgow G1 2PT
(nearest cross street: St Vincent Street)
View Larger Map

getting there...
| | | | |
| --- | --- | --- | --- |
| | parking | | |
| | private | | |
| | public | Mitchell Street (NCP) | walk in 5 |
| | rail | | |
| | underground | Buchanan Street | walk in 5 |
| | overground | Glasgow Queen Street | walk in 5 |
---

phone...
+44 (0) 141 221 4677 / main


web...
visit Vroni's website



email...
not available


---

web booking...
not available



email booking...
not available
---

[CONFIDENTIAL]
We are always working on all sorts of new features at topsecretglasgow.com - including highlights of the most buzzing events and the local low-down on those streets and areas with the best of Glasgow.

We'll reveal the top secrets that many locals don't even know and steer you to the wonderful things that often lie in the shadows of the classic places in Glasgow.

If you want to be first onto these new top secrets, then just use the simple form below to pass us your email address and first name. We'll be in touch... "confidentially"!

---