An Lochan Glasgow...
quality dining "by the loch" in the heart of Glasgow's West End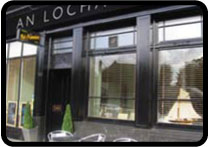 STOP PRESS

This was how my hobby site started life. A LONG time ago now. I still like the "dear diary" approach but I think people don't have so much time to read all that now. You can see how my "buzz" about An Lochan looks these days.
My trip to An Lochan Glasgow started when I went in search of a new place to eat yesterday, somewhere local to me in the West End. A jaunt around the web uncovered somewhere very promising called Cafe Royale... hitlisted by some local guidebooks and a mere mile away - off we set, a friend and I. With Glasgow shedding a cloud or two at the time we leaped into a passing cab and gave the address on Crow Road.

The number was an easy find. But what's this? It's gone!

Well, not really. We are reassured that, like some glamorous international spy, it has only had a face lift and a name change. Cafe Royale climbed into a shopfitter's pupae a couple of months ago and emerged a glossy black changeling; oozing subtle west of Scotland charm as "An Lochan", or "by the loch".

The proprietor of An Lochan Glasgow has printed a range of art cards (and their little brothers and sisters in the form of matching business cards). Each features a striking photograph featuring one of their extended team of providers of all the fair foods that make An Lochan Glasgow so special... "Claire making our morning rolls" and "Guido smoking our salmon" being just two of the five on offer - collect the set! This suggests that their particular take on restauranteuring has not been binned with the blue trappings of Cafe Royale. Past reviews raved about their pride in all of the people who contribute to your meal. And, for them, that means the lad who stalks the deer on the hillside of Scotland or the lass who collects the shellfish from the watery underworld of Scotland's coast. Good provenance like this should be celebrated and it's great to see An Lochlan Glasgow do so in such a charming way.


I'll let them take over to explain their changes and their values...

As you may have noticed, Cafe Royale has changed. For starters, there's
our rather dramatic new colour scheme, which we think makes the place look a shade more sophisticated. And then there's the name - An Lochan, which means "by the loch" in Gaelic.

"By the loch, in the middle of Glasgow's West End? Perhaps that makes better sense when you know that's also the new name of our small but perfectly-formed hotel which sits on the beach at Tighnabruaich - you guessed it, overlooking the loch, and with stunning views across to the Isle of Bute.

"Why name a restaurant after our hotel? Because we want all lovers of fine Scottish food to understand the link between them. Put simply, they feed off each other. All the delectable fresh seafood as well as most of the delicious meat and game we cook here in Glasgow has come straight from our trusted suppliers in the Kyles of Bute. Shonna, Mary and Arthur catch us the most succulent scallops and langoustines; Winston Churchill (no, really) stalks the most tender venison. And then Ian or Roger loads the day's catch into our little white van and drives it to our kitchen door... and onto your plate just a little while later.

"What does our hotel get out of this mutually beneficial relationship? Well, next time you need to get away from it all and spend a few days eating fabulous food in breathtakingly beautiful surroundings, maybe the name An Lochan Tighnabruaich will ring a bell for you?"


So, what of this well-connected food?

We chose from the seasonal lunch menu at An Lochan Glasgow, a three-by-three selection for stater, main and dessert. The works comes in at £15.95 and dropping a course leaves a couple of pounds in your pocket (and off your waist?) at just £13.95 - a bargain, we thought.

Starters were almost a non-starter - it was a challenge just to make a choice. I loved the sound of them all... chicken liver pate with mini-oatcakes, cullen skink or wild mushroom soup. I finally plumped for the cullen skink a thick and satisfying bowl of creamy fishy heaven, especially on a chill day in December in Glasgow. My dining partner revelled in an old favourite, a fine smooth pate zinging with flavours. (I should know, coz I sneaked a taste.)


Mains were equally impressive at An Lochan Glasgow. My lamb shank with crushed potatoes and roasted chestnuts made me almost glad it was winter. Savoy cabbage was light, crunchy and tender and a great partner to the mainly rich things heaped artfully upon my white china plate. My friend settled on the poached salmon, a fine slab of meaty fish teetering on top of a mound of champit tatties (that's potatoes bashed up with a potato masher!) and shredded cabbage. I seem to remember comments of "cooked to perfection", "absolutely delicious" and a general repeated rejoicing that the salmon was "bone-free"...

We hummed and hawed and eventually passed on the dessert. Though, wistfully, I still wonder what spooned delights I missed out on in the baked apple crumble and vanilla-pod ice cream? Perhaps the thought of ice cream on a cold day was what finished off the idea but I think it was more the generous portions of the two dishes we had first. Another time for puds and a great excuse to go back to An Lochan Glasgow. I've some friends coming up from London for a Hogmanay weekend and this place is already on the shortlist for a lunch or dinner date.

I know I shouldn't encourage stereotypes but I do like to choose places with some sort of Scottish tang when I have English friends to stay. I know they love it, an icing on the cake of making a trip to "another country". The setting at An Lochan Glasgow is far from the tartan shortbread tin school of decorating but it does suggest something of the West of Scotland with it's large paintings of the coast and it's striking wall-sculptures celebrating the fruits of the sea. The colour scheme has that muted greenish bluish light with purple hints that almost suggests you are loch side. Extreme comfort too in their new seating; all squishy leather and velvet in creams and purples. Modern, stylish but somehow still "Scottish".

Service was charming and efficient and we enjoyed chatting about their changes, their sister hotel in the Kyles of Bute and our plans to come back with a crowd of friends (an early warning for Hogmanay 2006 - An Lochan Glasgow is fully booked for dinner already!)

If you fancy a trip lochside without actually leaving the leafy sandstone of our Glasgow's west end you can find them here...
AN LOCHAN Glasgow - 340 Crow Road, Glasgow, Scotland, G11 7HT. Tel. O141-338-6606.

And if you really would much prefer to escape to their loch side cousin anyway, then point your carriage in this direction...
AN LOCHAN Tighnabruaich - Kyles of Bute, Argyll, Scotland, PA21 2BE. Tel. 01700-811-239.
Full details on the An Lochan Glasgow website.