Blue Dog
Delights, Making Heads Spin with Cool Cocktails, Champagne and Wine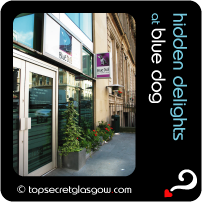 ---
DRINK

champagne and cocktails

in a

wine bar
---

why should you go?...
What could be better than an expertly prepared cocktail, served up in cool, muted surroundings? Possibly adding some live sax-fuelled classic jazz or some siren singing soul. Blue Dog can deliver both, and does so regularly. The unassuming entry leads from a busy city centre street into a relaxed but lively, charmingly small, cocktail and wine bar.
Choose a classic martini, one of Blue Dog's imaginative creations, or from the still and sparkling wine lists. Remember that if you can't find exactly what you want, your bar-tender will happily oblige and serve up your very own creation.
---

who goes there?...
Party animals, pre-and-post theatre goers, office workers, trendy young things

what's it like inside?...
Blue Dog sits quietly on one of the busiest streets in central Glasgow, where the business district melds into shopping streets. But have a closer look. The unassuming exterior hides a sophisticated, welcoming interior of natural colours and décor.
Relaxed Blue Dog visitors sip cocktails and listen to the sexy soulful background music, or enjoy the rich sounds coming from one of Blue Dog's regular musical guests. Sultry classics and sax-filled jazz may be competing for your attention.

how are the staff?...
Wait staff are quiet and friendly, going about their business with confidence and efficiency. This is a good thing, because the range of cocktails they magic into existence must demand concentration in spades.
Once, staggering into Blue Dog with shopping bags tripping us up, a friendly waitress helped us to sort out our coats and bags before offering the restorative drinks list. They are just that sort of thoughtful people.

what's good in your glass?...
Cocktails and wine in relaxed but lively surroundings are the main draws for Blue Dog. And feast your eyes at that cocktail list. Starting with a dizzying list of enticing tempters, the list moves on to champagne and sparkling wines (Dom Perignon rubbing shoulders with Bollinger and Roederer Cristal) followed by the 'Jazz Up, Get Funky' list.
Here you'll find imaginative combinations like the Witchita Julep (Knob Creek bourbon, walnut liqueur, maple syrup and lots more…) and the Emily Emily (Stolitchnaya raspberry vodka, Passoa, Plymouth sloe gin, cranberry juice and kumquats), along with many more.

Then there are classic cocktails, and a still wine list that concentrates on Europe, but with a couple of new world choices for good measure. And that's not all. If you can't see exactly what you want, just ask and it'll be made especially for you.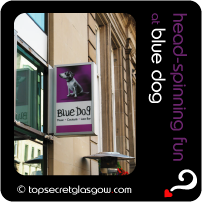 what's the speciality of the house?...
Enjoyable, laid back live entertainers, musicians and singers, combined with excellent wine and cocktails, make for special evenings with Blue Dog. The martini list makes my head spin - literally. But I do love a martini straight up, and Blue Dog delivers.

what's tasty on your plate?...
Food can be arranged as part of your catering for a party or event. Nibbles or more substantial dishes can be supplied. Otherwise, Blue Dog cheerfully keeps wagging his tail for us by bringing the wine and funky cocktails to keep everyone happy.

what else should you know?...
Blue Dog is no lazy hound. Catering for your party, whether it's for 8 or 120 guests, is no problem. Early cocktail parties between 5pm and 8pm can be arranged for up to 50 people, and at no booking charge for the pleasure.
Food at your party is optional, and entertainment – magicians, DJs, pianists, Latin dancers – can be provided. Check out Blue Dog's list of live entertainment, to make sure you mosey along on the right evening.
---

is it good value?...
If you enjoy classic live jazz or sultry soul, served up with reasonably priced cocktails that score high on imaginations, then Blue Dog offers value. As a place to treat yourself with a drink and soak up the cool vibe after a spot of shopping or after a theatre show, Blue Dog will look after you.
---

when is it open?...
 drinks served

Mo 15:00 - 3:00

Tu 15:00 - 3:00

We 15:00 - 3:00

Th 15:00 - 3:00

Fr 15:00 - 3:00

Sa 14:00 - 3:00

Su 20:00 - 3:00
---

location, location, location...
151 West George Street, Glasgow G2 2JJ
(nearest cross street: West Campbell Street)

phone...
+44 (0) 141 229 0707 / main


web...

email...
---

[CONFIDENTIAL]
We are always working on all sorts of new features at topsecretglasgow.com - including highlights of the most buzzing events and the local low-down on those streets and areas with the best of Glasgow.

We'll reveal the top secrets that many locals don't even know and steer you to the wonderful things that often lie in the shadows of the classic places in Glasgow.

If you want to be first onto these new top secrets, then just use the simple form below to pass us your email address and first name. We'll be in touch... "confidentially"!

---