Cafe Mao
Serves up Spicy Asian Delicacies in a Colourful, Lively Space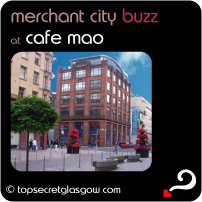 ---
EAT

Asian

in a

cafe-bar
---

why should you go?...
Glaswegians love spicy food, so it is no surprise that Café Mao in the Merchant City is buzzing with a trendy, ever-so-cool atmosphere. Just enough chillies are used to keep things hot, which maybe explains why so many bottles of beer are consumed?
After a dish of five spices chicken or chillied pork, cool down with a frozen yoghurt or a heavenly passion fruit mousse.
---

who goes there?...
Trendies, students, shoppers, pre-theatre goers.

what's it like inside?...
Café Mao occupies a prime Merchant City spot, dominating its corner position with massive windows. These really are perfect, setting the scene for the bright, cheerful interior. Splashes of primary colour break up the shining splendour of the whiter-than-white walls.
The wide pavement outside is set up with tables when the weather permits, allowing the cool and trendy diners to be seen while the Merchant City world slips by.

how are the staff?...
Service in Café Mao is just like the restaurant's ambiance – bright and breezy. Staff are young and trendy, wearing casual styles that suit the buzzing, happy-go-lucky atmosphere.
One minute they're rushing around getting drinks and re-setting tables, the next they're having a laugh with the big group of al fresco diners, clearly enjoying themselves.

what's tasty on your plate?...
Glaswegians love a good curry, so it should come as no surprise that the tangs and spices of Asian-fusion food have gone down so well. Café Mao has lunch and main menus to choose from, plus a set menu for parties of 10 or more. T
he chilli in the chilli chicken ramen (a sort of broth with noodles) will kick some, but it won't cause any serious injuries! The teriyaki salmon fillet on a bed of greens dissolves on impact with your tongue, and that old favourite chicken satay is as good as can be.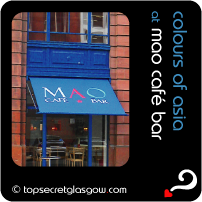 what's the speciality of the house?...
It would be fair to say that Café Mao's specialities are great atmosphere as well as the Asian dishes they deliver so well. Authentic Thai dishes such as larb moo (pork with mint, lime and fiery chilli) and Malaysian chicken (with coriander and coconut on jasmine rice) feel just about perfect.

what's good in your glass?...
There is a pretty good choice of wines in Café Mao, ranging from one or two European bottles to a predominantly new world selection. Diners are big on bottled beers in Café Mao: probably to wash down all that deliciously spicy Asian food.

what else should you know?...
A short stroll from the Ramshorn and Tron theatres, Cafe Mao can get busy, especially at pre-theatre peak times, so advance booking is a good idea.
---

is it good value?...
A meal in the lively atmosphere of Cafe Mao won't have you digging too deep for the pleasure. The set dinner menu for larger groups offers two courses and excellent value for money, and if you've room for a third course, you will be satisfied for very little extra.
Similarly, expect a very reasonable price for lunch. Remember that part of Café Mao's charm is its buzzing atmosphere in a very cool part of the city centre – being seen to be there often has a value of its own.

price check?... [ ? ]
| | | |
| --- | --- | --- |
| Lunch | | ££ |
| Set Lunch | | ££ |
| | | |
| Dinner | | ££ |
| Set Dinner | | - |
| | | |
| Pre-theatre | | ££ |
| Post-theatre | | - |
| | | |
| House Wine | | ££ |
---

when is it open?...
 food served

Mo 12:00 - 23:00

Tu 12:00 - 23:00

We 12:00 - 23:00

Th 12:00 - 23:00

Fr 12:00 - 23:00

Sa 12:00 - 23:00

Su 12:30 - 22:00
---

location, location, location...
84 Brunswick Street, Glasgow G1 1TD
(nearest cross street: Wilson Street)

phone...
+44 (0) 141 564 5161 / main


web...

email...
---

[CONFIDENTIAL]
We are always working on all sorts of new features at topsecretglasgow.com - including highlights of the most buzzing events and the local low-down on those streets and areas with the best of Glasgow.

We'll reveal the top secrets that many locals don't even know and steer you to the wonderful things that often lie in the shadows of the classic places in Glasgow.

If you want to be first onto these new top secrets, then just use the simple form below to pass us your email address and first name. We'll be in touch... "confidentially"!

---