Clone Zone
Clone Zone: Adult Pleasures Tucked Away in Full Thrust of the City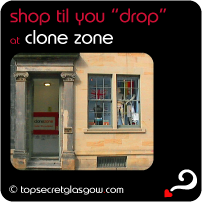 ---
SHOP for

gay pleasures

in a

boutique
---

why should you go?...
Clone Zone is in a bright cheery spot tucked away in the full thrust of the city. Staff here seem to be effortlessly good at keeping you satisfied with either of their hands… hands-off or hands-on. Joking aside, I mean that a quiet browse, unbothered, or a breezy chat about the next delivery of your favourite magazine are equally on the cards from the friendly staff. And their greetings cards are always prone to raise a…. smile.
Save the mail order P&P and enjoy regular discounts as you explore. The flavour of "adult" varies across their range but all perfectly "legal" temptations to pop your plastic into the slot. Drop zone for range of free LGBT press.
---

who goes there?...
LGBT adults; gay, lesbian, bisexual and transgender.

what's it like inside?...
Clone Zone is tucked away in one of the quietest streets at the heart of Glasgow's City Centre. Virginia Street opens onto the full pummel of Argyle Street shopping at one end. But curiously curves around a large period building at the other, conspiring to cut it off from the equally busy Ingram Street.
Almost the perfect spot for an adult store and those customers who prefer discretion. The store itself is in the ground floor of a beautiful old sandstone building and makes no apologies for itself. A small, bright store, well laid-out and easy to navigate to your desire.

how are the staff?...
The staff at Clone Zone could barely be more laid back about their fine upstanding job; taking care of their sexually alert punters. They are happy to adopt one of two main approaches: keep quietly out of your way and let you explore the many pleasures of its well endowed shelves and racks – or impress you with their chatty product knowledge and help you settle yourself into a changing room.
And they seem to be effortlessly good at keeping you satisfied with either of these expert "hands".

why swipe your plastic?...
The main stock in trade of Clone Zone are "adult" goods. Just for clarity (though I doubt you need it) this means magazines, books, fetish clothing, sex toys, DVDs, greetings cards and calendars. The flavour of "adult" varies across the range. All, of course, perfectly legal to sell, buy and own under UK law.
There are no "under the counter" items at Clone Zone but the counter itself it bulging with last-gasp temptations as you pop your plastic into the slot. They do sell a few other things that don't really enjoy this "adult" tag; like male underwear (many non-fetish but every bit as sexy), gift wrap and some CDs.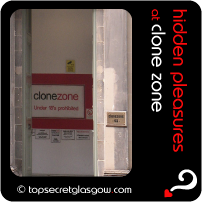 what's the speciality of the house?...
It's not all scud mags, leather and chains at Clone Zone! Both lesbian and gay erotic fiction are presented here as well as beautiful coffee-table books of nude photographic art. They do, of course, also specialise in a range of big-brand American leather goods and sexy toys.
That and their adult magazine collection (both American and European) probably accounts for some three-quarters of their stock. Call me old-fashioned ("you're old fashioned!") but I have a particular affection for their adult themed greetings cards, always prone to raise a…. smile.

what tempts you to the till?...
Clone Zone also acts as one of the many drop zones for a range of free press for LGBT readers. Slip a copy in your glossy black (and discretely engraved) bag on the way out. Or just pop in and pick up the latest edition as you pass, no purchase required!
If you do want an advance peek at the products or prefer the convenience of mail order, do consider a visit to Clone Zone Direct, their online store.
While you're there, consider signing-up for their Clone Zone Club Advantage Card for regular discounts, special offers and new product information emailed direct to you.

what else should you know?...
I fancy the pants off one of the friendly staff but please don't tell him…
---

is it good value?...
Many adult items come at a premium price and that's no different at Clone Zone. But at least you save on the P&P of mail order! And nothing can ever compare to a bit of "hands-on" in the shopping department, no matter what the product.
They do have fairly regular discounts to clear out the older magazine titles and occasional sales on leather and other big-ticket enticements.
---

when is it open?...
 general opening

Mo 10:30 - 19:00

Tu 10:30 - 19:00

We 10:30 - 19:00

Th 10:30 - 19:00

Fr 10:30 - 19:00

Sa 10:30 - 19:00

Su 12:30 - 18:00
---

location, location, location...
45 Virginia Street, Glasgow G1 1TS
(nearest cross street: Argyle Street)

phone...
+44 (0) 141 553 2666 / main


web...
visit their website



email...
---

[CONFIDENTIAL]
We are always working on all sorts of new features at topsecretglasgow.com - including highlights of the most buzzing events and the local low-down on those streets and areas with the best of Glasgow.

We'll reveal the top secrets that many locals don't even know and steer you to the wonderful things that often lie in the shadows of the classic places in Glasgow.

If you want to be first onto these new top secrets, then just use the simple form below to pass us your email address and first name. We'll be in touch... "confidentially"!

---