Amarone
Sophisticated Italian Dining and Chic Surroundings in Central Glasgow
---
EAT

Italian

in a

restaurant
---

why should you go?...
Amarone delivers Italian heaven to Glasgow city centre. Whether you're looking for a romantic dinner, hosting a business dinner or heading for the theatre, Amarone will provide the perfect atmosphere, with excellent food and quiet attentive service. If you enjoy excellent Italian cuisine and a decent choice of wines, all served with unhurried good taste in understated, sophisticated surroundings, look no further.
Their extensive a la carte menu spoils for choice, and the pre-theatre options will set up your evening on the town to perfection. For an unhurried treat or a relaxing al fresco cappuccino during a shopping spree, Amarone delivers every time
---

who goes there?...
Theatre goers, romantic couples, business people, shoppers

what's it like inside?...
Amarone simply oozes sophisticated elegance and easy charm. The subtle lighting, dark woods against understated cream walls and cosy leather booths ensure a relaxed atmosphere for those well informed enough to choose this excellent Italian restaurant.
Placed in a tasteful basement right on one of the busiest streets in Glasgow, enter an oasis of calm, while still seeing thousands of legs scamper by on Buchanan Street.

how are the staff?...
Staff are smart and attentive, efficient and friendly. Dark outfits, crisp and stylish, fit perfectly with the stylish design of the restaurant. Advice on the best wine to accompany your meal is provided if needed.
Although there are translations into English on the menu, questions are happily answered. Amarone staff are obviously aware of how excellent their restaurant is, and are proud of themselves. We agree!

what's tasty on your plate?...
There is more than one Amarone menu. The a la carte choices are extensive. The pre theatre menu is just right for getting your evening off to the perfect start. Yes, you can opt for a pizza, and very nice they are too. However, just looking at the pasta, fish and meat dishes will have you drooling. Cherry tomatoes nestle cheekily beside plump chicken, on beds of garlicky pasta. Tiny pork and beef meatballs wrestle for your attention beside tangy tomato sugo pasta tubes.
Salads featuring seared lemon chicken, classic Caesar or huge tuna fillet steaks demand your attention. When you finally decide what to have, diners can relax in the knowledge that it'll all be washed gently down with your choice of Amarone's Italian wines...perfection.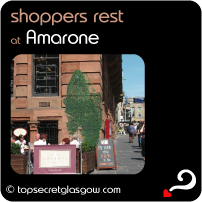 what's the speciality of the house?...
Antipasto Misto in Amarone is wonderful: a fine selection of cured meats, cheeses and grilled marinated vegetables. What a starter! The vegetarian Crostini Misti; toasted Italian breads topped with wild mushrooms, toasted red peppers and mozzarella, is divine.
I adore pasta, and Amarone's seafood option simply bursts with juicy king prawns, tender scallops and perfectly prepared mussels and calamari.

what's good in your glass?...
Amarone has put as much care and attention into its selection of wines as it has done to its fantastic food. They proudly state that their selections have been made for the best possible pleasure for their diners. How considerate they are!
A wonderfully rounded Valpolicella might be your choice, or how about a sprightly Pinot Grigio Rose? Even in chic Amarone, a decent bottle of Italian beer isn't out of the question either.

what else should you know?...
In summer take the opportunity of sitting outside and watching the busy city centre go about its business. Vegetarian diners are very well catered for. Amarone offers a set menu which is ideal for large parties, and which can be customised on request. Amarone can also be booked for exclusive hire.
---

is it good value?...
"How can Amarone deliver such treats at such reasonable prices?" we ask ourselves. Of the eight different focaccia on offer, prices start at unbelievably affordable levels. The pre-theatre menu offers meals for two or three courses that will get your evening off to an excellent start.
Considering the peaceful atmosphere, convenient position in the city centre and top class service, Amarone does indeed offer very good value for money.

price check?... [ ? ]
| | | |
| --- | --- | --- |
| Lunch | | ££ |
| Set Lunch | | - |
| | | |
| Dinner | | ££ |
| Set Dinner | | - |
| | | |
| Pre-theatre | | ££ |
| Post-theatre | | - |
| | | |
| House Wine | | ££ |
---

when is it open?...
 food served

Mo 12:00 - 22:30

Tu 12:00 - 22:30

We 12:00 - 22:30

Th 12:00 - 22:30

Fr 12:00 - 22:30

Sa 12:00 - 22:30

Su 12:30 - 22:00
---

location, location, location...
2 Nelson Mandela Place, Glasgow G2 1bt
(nearest cross street: Buchanan Street)

phone...
+44 (0) 141 333 1122 / main


web...

email...
---

[CONFIDENTIAL]
We are always working on all sorts of new features at topsecretglasgow.com - including highlights of the most buzzing events and the local low-down on those streets and areas with the best of Glasgow.

We'll reveal the top secrets that many locals don't even know and steer you to the wonderful things that often lie in the shadows of the classic places in Glasgow.

If you want to be first onto these new top secrets, then just use the simple form below to pass us your email address and first name. We'll be in touch... "confidentially"!

---