Babbity Bowster
Loved by Locals for Bringing a Village Pub to The Merchant City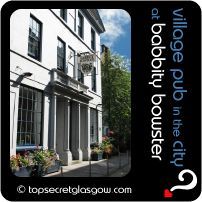 ---
DRINK

wine, spirits and beers

in a

bar and beer garden
---

why should you go?...
Babbity Bowster, amazing as this might seem, effortlessly creates the atmosphere of a local village pub, right in The Merchant City. Serving up honest, well prepared pub grub with energy and friendliness, The Babbity has been luring locals back time and again, since its restoration in 1985.
Tuck yourself away with friends in the cosy bar area, or grab a bench outside in the surprisingly airy beer garden. Glasgow is so lucky to have The Babbity.
---

who goes there?...
Locals, shoppers, business people, mature boozers.

what's it like inside?...
Babbity Bowster sits proudly in The Merchant City, in a building whose origins can be traced back to Robert and John Adam, circa 1794. Refurbished from virtual dereliction in 1985, fans of a relaxed atmosphere – almost of a loved local village pub in the city centre – continue to flock.
The Babbity takes its name from a traditional Scottish dance. Ancient wooden floorboards creak, and the beer garden provides the perfect spot to take a load off and relax. See if you can spot the owner – it's quite easy; he has a patch over one eye…

how are the staff?...
Wait staff are kept busy, working between the tables in the snug bar and those out in the beer garden. Friendly and smiley, they happily bring more refreshments outside.
If the owner happens to be behind the bar, expect a grand welcome and easy advice about what you should think about supping. He's great fun, always ready with a story for anyone who stands (or sits) still for long enough.

what's good in your glass?...
Babbity Bowster is proud of the range of malt whiskies shelved behind the bar. A small but well formed wine list should keep most visitors more than happy, as will the beer and lager available on draught and by the bottle.
There is a seductive quality to the atmosphere in The Babbity, causing people to linger for 'just one more glass'. Trust me; you'll see what I mean. You have been warned!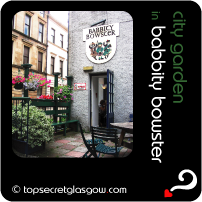 what's the speciality of the house?...
The wonderful atmosphere counts as a speciality all on its own. Walk in and take a deep breath. You'll know what I mean when you experience it. If the friendliness and laid back chat in The Babbity could be bottled, the world would be a happier place.

what's tasty on your plate?...
Honest and to the point would be a good way to describe the pub grub served up by The Babbity. A plate heaped with just the right amount of haggis, neeps and tatties will keep most folks happy.
I usually can't see beyond my desire for a Babbity croquet monsieur (a French version of an open grilled cheese and ham sandwich). Generally, this is the sort of wonderful, simple food Granny might just plonk in front of you.

what else should you know?...
Not content with offering guests an unexpected beer garden and excellent atmosphere, The Babbity is also an inn, with a few rooms upstairs. So, if you're visiting Glasgow for a festival, event, business trip or holiday where the city centre will be your focus, what could be better than Babbity Bowster?
Well, perhaps only one thing - it's very own calmly welcoming restaurant upstairs... Schottische.
---

is it good value?...
The Babbity offers plain and well prepared food at very reasonably prices indeed. When you consider the 'local village pub' atmosphere and the gentle banter thrown in free, you know you're on to a good thing. No wonder Babbity Bowster remains a Merchant City gem much loved by loyal local fans.

price check?... [ ? ]
| | | |
| --- | --- | --- |
| Lunch | | ££ |
| Set Lunch | | - |
| | | |
| Dinner | | ££ |
| Set Dinner | | - |
| | | |
| Pre-theatre | | - |
| Post-theatre | | - |
| | | |
| House Wine | | ££ |
---

when is it open?...
 food served

Mo 12:00 - 22:00

Tu 12:00 - 22:00

We 12:00 - 22:00

Th 12:00 - 22:00

Fr 12:00 - 22:00

Sa 12:00 - 22:00

Su 12:30 - 22:00
 drinks served

Mo 11:00 - 24:00

Tu 11:00 - 24:00

We 11:00 - 24:00

Th 11:00 - 24:00

Fr 11:00 - 24:00

Sa 11:00 - 24:00

Su 12:30 - 24:00
---

location, location, location...


16-18 Blackfriars Street, Glasgow G1 1pe
(nearest cross street: High Street)
View Larger Map

getting there...
| | | | |
| --- | --- | --- | --- |
| | parking | | |
| | private | | |
| | public | High Street (LLP) | walk in 5 |
| | rail | | |
| | underground | Buchanan Street | walk in 5 |
| | overground | High Street (Glasgow) | walk in 5 |
---

phone...
+44 (0) 141 552 5055 / main


web...
not available


---

web booking...
not available



email booking...
not available
---

[CONFIDENTIAL]
We are always working on all sorts of new features at topsecretglasgow.com - including highlights of the most buzzing events and the local low-down on those streets and areas with the best of Glasgow.

We'll reveal the top secrets that many locals don't even know and steer you to the wonderful things that often lie in the shadows of the classic places in Glasgow.

If you want to be first onto these new top secrets, then just use the simple form below to pass us your email address and first name. We'll be in touch... "confidentially"!

---