Cafe Gandolfi
One of Glasgow's Best Bistro Treats in Creaky Wooden Surroundings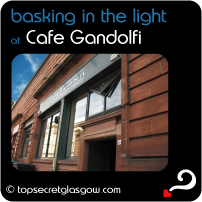 ---
EAT

an eclectic Scottish/European mix

in a

bistro
---

why should you go?...
A true Glasgow institution, locals who know a good thing when they see it have been packing into Cafe Gandolfi since it opened in 1979. Experience well prepared Scottish/European fusion food in the coolest of bistros, sitting at utterly unique tables and chairs that were clearly once a tree.
---

who goes there?...
Food lovers, locals, business people during the week.

what's it like inside?...
Cafe Gandolfi was originally the office of the cheesemarket, and retains its olde-worlde charm from a bygone age.
Dark wood-panelled walls, hand crafted furniture and a creaky wooden floor are bathed in the light flooding in through the cafe's unique stained glass windows.

how are the staff?...
In a constantly busy venue, the staff work hard, and can be relied upon to squeeze you in before long. They are justifiable proud of their cafe, and helpful when taking orders. Service is prompt, efficient, and friendly.

what's tasty on your plate?...
The treats offered by Cafe Gandolfi are second to none, and contain as many organic ingredients as possible. The creamy poached eggs from the brunch menu are dreamy. Expect plenty of Scottish fayre, such as haggis with pancakes.
And, of course, puddings such as the Gandolfi chocolate pot are so good; you know they must be sinful!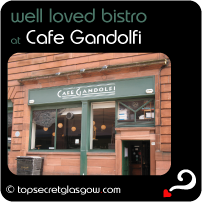 what's the speciality of the house?...
The menu changes on a regular basis here. Home made soups are worth looking out for. The best summary is to say that Cafe Gandolfi's speciality is creatively fusing Scottish and European cuisine - to great effect.

what's good in your glass?...
There is a good selection of wine on offer, with excellent European bottles to choose from. Coffee connoisseurs have a good choice too. In fact, the coffee aromas floating into the dining area is one of Cafe Gandolfi's many wonderful features.

what else should you know?...
A true Glasgow institution, Cafe Gandolfi has been successfully trading in the Merchant City since 1979 – way before that part of Glasgow was renovated. Usually busy, especially at peak times, it is best to book in advance.
Bar Gandolfi upstairs is a bright and airy recent opening, and a charming place to visit. In fact, when the bistro is full, and you really must have your fix of Cafe Gandolfi food, expect an offer to enjoy your meal in the bar upstairs.
---

is it good value?...
Cafe Gandolfi knows that it produces excellent food in an unusual way. It is also confident of its place in Glasgow's thriving social scene. Prices are very reasonable indeed, with a set lunch offering their best at an affordable price.
House wine also offers particularly good value for money. All delivered in arty surroundings to locals in the know.

price check?... [ ? ]
| | | |
| --- | --- | --- |
| Lunch | | ££ |
| Set Lunch | | - |
| | | |
| Dinner | | ££ |
| Set Dinner | | - |
| | | |
| Pre-theatre | | - |
| Post-theatre | | - |
| | | |
| House Wine | | ££ |
---

when is it open?...
Mo 09:00 - 23:30

Tu 09:00 - 23:30

We 09:00 - 23:30

Th 09:00 - 23:30

Fr 09:00 - 23:30

Sa 09:00 - 23:30

Su 12:00 - 23:30
---

location, location, location...
64 Albion Street, Glasgow G1 1NY
(nearest cross street: Bell Street)

phone...
+44 (0) 141 552 6813 / main


web...

email...
---

[CONFIDENTIAL]
We are always working on all sorts of new features at topsecretglasgow.com - including highlights of the most buzzing events and the local low-down on those streets and areas with the best of Glasgow.

We'll reveal the top secrets that many locals don't even know and steer you to the wonderful things that often lie in the shadows of the classic places in Glasgow.

If you want to be first onto these new top secrets, then just use the simple form below to pass us your email address and first name. We'll be in touch... "confidentially"!

---
Your Great Stories about Cafe Gandolfi...
Click on the links below to see some great stories, tips and photos about Café Mao, Merchant City, Glasgow.

They were all written by other visitors to this page...
Love Those "Once a Tree" Tables and Chairs!

Would recommend to all lovers of natural wood - and the food is pretty amazing too! ;-) We fell in love with this place while on vacation there. The …