Glasgow Film Theatre
Brings an Exciting, Diverse Movie Culture to Glasgow
---
PLAY

classic movies

in a

stylish art house cimena
---

why should you go?...
Glasgow Film Theatre is a vibrant art house cinema, enthusiastically bringing foreign, independent and classic movies to Glasgow. Just off Sauchiehall Street, visit this much loved gem to experience movies you've never even heard of before, or come along and join a sentimental crowd being thrilled by a favourite Hitchcock masterpiece.
Meet up with friends in Cafe Cosmo, or catch the latest by your favourite Japanese director. Only at GFT can you experience such wonderful cultural movie diversity.
---

who goes there?...
Movie buffs, especially lovers of independent film, world cinema and classic movies. Students of film and theatre studies.

what's it like inside?...
The GFT, as it is fondly known, occupies the former home of The Cosmo, Scotland's oldest independent art house cinema. Bought by the Scottish Film Council, Glasgow Film House was opened in May 1974.
The beautiful Modernist European building on Rose Street is just round the corner from busy Sauchiehall Street. Interiors are art deco in style, cool and serene in equal measures.

how are the staff?...
Staff are there to check tickets and show you to seats in the semi-dark theatres. Before much anticipated screenings of niche interest and rare movies, one of the GFT staff will often give a short presentation to the audience, giving some information about why it qualifies as a classic. This is all good 'film buff' stuff.
Directors and production staff, and the occasional cast member are also known to pitch up before special screenings. Bring your autograph book! Staff in the busy Cafe Cosmo are just as friendly, even at the peak times, when they are forever on the move.

what pulls you in?...
The GFT shows around 450 different titles each year, bringing to Glasgow many overseas and independent productions that otherwise wouldn't be seen. There are two theatres; the largest has 394 seats and 4 places for wheelchairs. When you visit, look up at the ceiling. It really is beautiful – it's easy to understand that this area is actually the balcony level of the old Cosmo.
Next to Café Cosmo on the ground floor is the smaller theatre, which has a comfortable 142 seats and space for 2 wheelchairs. There are regular film festivals, retrospectives of past screen heroes, heroines and directors, and an indulgence in all films foreign and arty, new and old, independent and creative.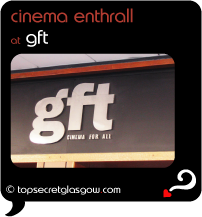 what's the speciality of the house?...
Each Christmas GFT treats Glaswegians to a few showings of the much loved 'It's A Wonderful Life' to full houses. There are laughs, tears and a round of applause at the end when Jimmy Stewart (and the whole town) get their priorities right!

what helps you stay?...
Turn immediately left when entering GFT and you'll find yourself in Cafe Cosmo. Named after GFT's predecessor, Cafe Cosmo offers soft and alcoholic drinks and snacks to film enthusiasts waiting for their performance to begin.

what else should you know?...
Some screenings are arranged just for parents and carers of babies under 15 months old. Screaming, snoring and even breastfeeding are all permitted at these times.
There is wheelchair access at GFT.
Glaswegian school pupils can get free entry to certain listed screenings, subject to proof of school attendance.
A monthly newsletter listing all forthcoming attractions is produced by GFT. Collect one free from the main door, or get onto GFT mailing list to receive your copies by post.
Gift vouchers in any multiple of £2 are available from the box office.
---

is it good value?...
Glasgow is lucky to have its own art house cinema. Unique to the West of Scotland, GFT brings its own brand of culture to delighted locals, and doesn't charge the earth for doing so.
There are discounts for students, pupils, pensioners and other groups, as well as other concessions on all tickets before 5pm on Fridays and for special Tuesday matinees.
GFT Saver Tickets give bulk discount advantages, and GFT Cinecard gives annual deals to card holders.

price check?... [ ? ]
| | | |
| --- | --- | --- |
| Lunch | | £ |
| Set Lunch | | - |
| | | |
| Dinner | | £ |
| Set Dinner | | - |
| | | |
| Pre-theatre | | - |
| Post-theatre | | - |
| | | |
| House Wine | | - |
---

when is it open?...
Cafe Cosmo times are provided. GFT opening follows the film schedule, which varies. Opening on Sunday varies according to the film schedule, with Cafe Cosmo opening 30 minutes before the first screening, until 8.30pm.
 food served

Mo 12:00 - 21:00

Tu 12:00 - 21:00

We 12:00 - 21:00

Th 12:00 - 21:00

Fr 12:00 - 21:00

Sa 11:00 - 21:00

Su 12:00 - 20:30
 drinks served

Mo 12:00 - 21:00

Tu 12:00 - 21:00

We 12:00 - 21:00

Th 12:00 - 21:00

Fr 12:00 - 21:00

Sa 11:00 - 21:00

Su 12:00 - 20:30
---

location, location, location...


12 Rose Street, Glasgow G3 6RB
(nearest cross street: Sauchiehall Street)
View Larger Map

getting there...
| | | | |
| --- | --- | --- | --- |
| | parking | | |
| | private | | |
| | public | Cambridge Street (LLP) | walk in 5 |
| | rail | | |
| | underground | Cowcaddens | walk in 5 |
| | overground | Glasgow Queen Street | walk in 10 |
---

phone...
+44 (0) 141 332 8128 / main


web...
visit their website



email...
---

web booking...
not available



email booking...
not available
---

[CONFIDENTIAL]
We are always working on all sorts of new features at topsecretglasgow.com - including highlights of the most buzzing events and the local low-down on those streets and areas with the best of Glasgow.

We'll reveal the top secrets that many locals don't even know and steer you to the wonderful things that often lie in the shadows of the classic places in Glasgow.

If you want to be first onto these new top secrets, then just use the simple form below to pass us your email address and first name. We'll be in touch... "confidentially"!

---