Guy's
Combines Pop Art and County Floral Decor with Worldwide Food Influences.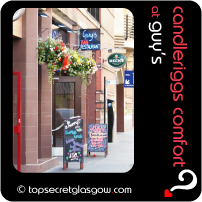 ---
EAT

World Fusion

in a

restaurant
---

why should you go?...
Guy's bistro offers up menus with influences from around the world. This results in one of the most quirky, enjoyable dining experiences in Glasgow. Where else can you find Italian classics and British comfort food on the same menu?
This eclectic, individual style is mirrored in the décor. A surprisingly successful combination of pop art and county kitchen (almost) twee look with subtle, low level lighting establishes a laid back but intimate dining space.
---

who goes there?...
Locals, business people, romantic couples, theatre goers.

what's it like inside?...
Guy's sits comfortably on Candleriggs, in the heart of the Merchant City. The décor is unusual, to say the least. It is a successful combination of 'county floral lounge' and pop-art, with subtle low level lighting keeping things smooth and easy.
Don't get a fright when you see the strangely dressed skeleton at the door; the relaxed atmosphere will have you breathing in the wonderful aromas wafting from the kitchen in two seconds flat. No one leaves a skeleton around here with food this good!

how are the staff?...
Dressed smartly in black with white aprons, staff in Guy's really look the part. You could be in a Parisian bistro. A warm smiling welcome greets guests, and today's specials are trotted out at ease. Attentive and observant, they glide around quietly, and are always nearby to give you their attention.

what's tasty on your plate?...
Taking influences from around the world, owner Guy Cowan has created one of the most eclectic menus in Glasgow. It's not every day diners see haggis, neeps and tatties battling for attention beside seafood pasta, beer battered fish and chips, and home made veal ravioli.
Puddings might tempt you to try the home made tiramisu. Yes, one major influence is Italian cuisine. There is a nifty pre-theatre menu, and a separate lunch menu too.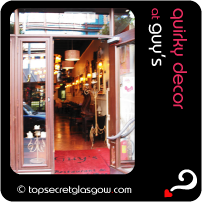 what's the speciality of the house?...
There are different specials each day. Wait staff will be happy to tell you about them. Expect continued home made delicacies, probably with an Italian slant, or possibly a British classic, right from Granny's kitchen

what's good in your glass?...
Much like the wonderful food, the wine list represents a jaunt around the globe. Favourites from Italy and France share space with longer haul choices from Australia, New Zealand and South America. The beautiful bar, which presides regally over the entrance, is home to a good selection of draught and bottled beers and lagers.

what else should you know?...
The long, narrow feel of Guy's is deceptive; large parties are catered for with ease.
Booking is advisable, especially for the busy pre-theatre times.
---

is it good value?...
Watch out for set lunch and pre-theatre offers. You can spot them on blackboards out on the pavement during serving times. These offer excellent value for money, with a satisfying lunch not setting you back by much for the pleasure.
Even choosing from the a la carte menu won't hurt your bank balance. Not bad, when you consider that you're sampling such a widely-influenced menu in such quirky surroundings.

price check?... [ ? ]
| | | |
| --- | --- | --- |
| Lunch | | ££ |
| Set Lunch | | £ |
| | | |
| Dinner | | ££ |
| Set Dinner | | - |
| | | |
| Pre-theatre | | ££ |
| Post-theatre | | - |
| | | |
| House Wine | | ££ |
---

when is it open?...
 general opening

Mo closed

Tu 11:00 - 24:00

We 11:00 - 24:00

Th 11:00 - 24:00

Fr 11:00 - 24:00

Sa 11:00 - 24:00

Su 12:30 - 22:00
 food served

Mo closed

Tu 12:00 - 22:00

We 12:00 - 22:00

Th 12:00 - 22:00

Fr 12:00 - 23:30

Sa 12:00 - 23:30

Su 12:30 - 21:30
---

location, location, location...
24 Candleriggs, Glasgow G1 1ld
(nearest cross street: Wilson Street)

phone...
+44 (0) 141 552 1114 / main


web...

email...
---

[CONFIDENTIAL]
We are always working on all sorts of new features at topsecretglasgow.com - including highlights of the most buzzing events and the local low-down on those streets and areas with the best of Glasgow.

We'll reveal the top secrets that many locals don't even know and steer you to the wonderful things that often lie in the shadows of the classic places in Glasgow.

If you want to be first onto these new top secrets, then just use the simple form below to pass us your email address and first name. We'll be in touch... "confidentially"!

---