Rab Ha's
Gives Us a Comfy Bar, Restaurant and Hotel in Classic Merchant City Spot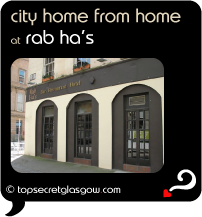 ---
DRINK

wine, spirits and beers

in a

comfy village pub
---

why should you go?...
Rab Ha's is a genuine Merchant City institution, serving up a wonderful combination of olde worlde charm and modern sophistication. Enjoy wonderful comfy pub grub in the creaky old bar and stylish Scottish cuisine in the tasteful cellar restaurant.
Care, attention to detail, and a genuine interest in customers help Rab Ha's stand out as a very unique and much loved Glasgow venue.
---

who goes there?...
Locals, office workers.

what's it like inside?...
It's named after the 19th century Merchant City dweller, Robert Hall, also known as The Glasgow Glutton! Walking into Rab Ha's feels like going back in time; when creaking wooden floors and log fires were the norm, when the barman knew everyone and remembered their tipple.
The L-shaped bar in Rab Ha's does, indeed, have locals keeping it upright, and they probably have a few tales to tell you.

how are the staff?...
Rab Ha's is privately owned and run. Perhaps that's why the welcoming smiles are so genuine, and there is a real feeling of affection for the old place. Proud of the heritage represented by Rab Ha's; obvious care is taken in setting 21st century standards of customer care.

what's good in your glass?...
Rab Ha must have travelled the world when selecting what to offer us. South Africa Chenin Blanc, my favourite Italian Pinot Grigio and Argentinean Trivento Viognier battle with reds from France, Australia, California and elsewhere for your attention.
There are four house wines to choose from, in addition to champagne and dessert wines. Shame on Rab Ha for giving us such a tricky decision!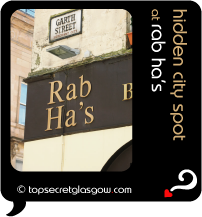 what's the speciality of the house?...
Rab Ha's proudly states their use of fresh, Scottish ingredients whenever possible, and go out of their way to bring you local seafood and game of the very best quality. Of course, it's the preparation and presentation that make the crucial difference, in the end. And Rab Ha's delivers in spades.
Dishes like poached egg on grilled Stornoway black pudding, and braised shoulder of Perthshire lamb are good indications of the quality specials you can expect from Rab Ha's.

what's tasty on your plate?...
Much like Rab Ha's character; the bar, pre-theatre and a la carte menus are a happy combination of 'old favourites' and contemporary modern Scottish cuisine.
So you might feel like bangers and mash in the bar? Or roast saddle of Rannoch Moor venison in the cosy cellar restaurant? Or haggis, neeps and tatties almost anywhere? The pre-theatre menu offers a careful selection to help get your evening off to a perfect start.

what else should you know?...
French windows open onto the pavement, allowing guests to enjoy a seat outside when the sun shines. Rab Ha's is a bar, a restaurant AND a smart city centre hotel, well located for all city activities.
Whether you're dropping in for a pint and chat at the bar, or enjoying an excellent meal downstairs, Rab Ha's will convince you that it really is a Glasgow favourite for very good reasons.
---

is it good value?...
Crackling with olde worlde charm and character, Rab Ha's offers the best sort of pub grub going – the sort of food my granny would call 'comfort food' – in its unique bar. You can fill yourself up for without worrying about any big holes in your pockets.
Or head downstairs to the warm and welcoming cellar restaurant for a quality Scottish cuisine experience without the need for a second mortgage. In particular, the pre-theatre menu offers the same very high quality cuisine at distinctly affordable prices.

price check?... [ ? ]
| | | |
| --- | --- | --- |
| Lunch | | £ |
| Set Lunch | | - |
| | | |
| Dinner | | ££ |
| Set Dinner | | - |
| | | |
| Pre-theatre | | ££ |
| Post-theatre | | - |
| | | |
| House Wine | | ££ |
---

when is it open?...
 general opening

Mo 12:00 - 24:00

Tu 12:00 - 24:00

We 12:00 - 24:00

Th 12:00 - 24:00

Fr 12:00 - 24:00

Sa 12:00 - 24:00

Su 12:30 - 24:00
 food served

Mo 17:30 - 22:00

Tu 17:30 - 22:00

We 17:30 - 22:00

Th 17:30 - 22:00

Fr 17:30 - 22:00

Sa 17:30 - 22:00

Su 17:30 - 22:00
 drinks served

Mo 12:00 - 24:00

Tu 12:00 - 24:00

We 12:00 - 24:00

Th 12:00 - 24:00

Fr 12:00 - 24:00

Sa 12:00 - 24:00

Su 12:30 - 24:00
---

location, location, location...
81 Hutcheson Street, Glasgow G1 1SH
(nearest cross street: Wilson Street)

phone...
+44 (0) 141 572 0400 / main
+44 (0) 141 572 0402 / fax

web...
visit their website



email...
---

web booking...
book at their website



email booking...
not available
---

[CONFIDENTIAL]
We are always working on all sorts of new features at topsecretglasgow.com - including highlights of the most buzzing events and the local low-down on those streets and areas with the best of Glasgow.

We'll reveal the top secrets that many locals don't even know and steer you to the wonderful things that often lie in the shadows of the classic places in Glasgow.

If you want to be first onto these new top secrets, then just use the simple form below to pass us your email address and first name. We'll be in touch... "confidentially"!

---