Red Onion
Delivers Worldwide Influences from a Local Boy, Ex-chef to the Stars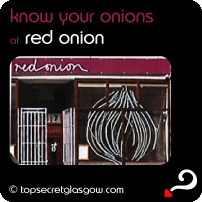 ---
EAT

World Fusion

in a

restaurant
---

why should you go?...
Red Onion's policy of using only fresh local ingredients and adding zest via world-wide influences guarantees a treat for diners. In a laid-back, cool and funky interior, choose from a top-class range of salads, sandwiches, mains and sweets that will bring a smile to your face without breaking your wallet.
The owner, John Quigley, aims to provide something fantastic for everyone, and we believe that his carefully constructed menu does just that.
---

who goes there?...
Business people, shoppers, theatre goers.

what's it like inside?...
Red Onion is a welcome addition to Glasgow's city centre, bringing a funky edge that is loved by shoppers, business people and night owls alike. Huge onion shapes are stuck to the windows, and the cool wooden blinds accentuate this striped effect by rippling the light even further.
The interior is light and airy, and there is a real fire crackling away on colder days. Wood abounds in the decor, as does the beautifully preserved brick wall that sets off the fireplace.

how are the staff?...
The owner of Red Onion is John Quigley, recently returned home to Glasgow with his wife after making a name for himself in London as the provider of excellent casual gourmet dining. He was also chef to the stars, including Tina Turner and Bryan Adams! Three cheers for Glasgow's fortune, because our very own home-grown son has done it again with Red Onion.
Staff are busy but never rushed, and they are forever smiley and attentive - just right for such a laid back, thriving place.

what's tasty on your plate?...
John Quigley has made it clear that only fresh local ingredients are used in his creations. He then adds zest to the menu, inspired by his experiences travelling the world. Red Onion diners gain the benefit of his adventures, sampling the exciting twists he treats them with.
For instance, the chicken tagine comes with apricots, almonds and honey, and just melts on the tongue. A salad might include rare beef and red onion (of course!) or chicken, avocado and honey mustard dressing. The choices are wide ranging, catering to all tastes. As John says, he aims to provide something delicious for everyone, and he succeeds.

what's the speciality of the house?...
I just can't see past the Thai spiced crabcakes with sweet chilli dip. Just thinking about them makes my mouth water. In a similar vein, the salmon fishcake with spinach, peas and lemon veloute is just perfect.
Got a sweet tooth? The Red Onion sticky toffee pudding is becoming a bit of a legend - at least it is with me and my friends! Seriously, though, the imaginative use Red Onion makes of fresh ingredients makes most dishes worthy of a special mention.

what's good in your glass?...
Echoing the far-flung influences on the menu, the wine selection comes with a number of New World choices, without overlooking decent European choices. Several are available by the glass, and there is a good choice of bottled designer beers and other bottled designer drinks.

what else should you know?...
Red Onion is in an excellent position, less than 5 minutes walk to most theatres in Glasgow city centre, and a short stroll to the Royal Concert Hall. So the pre-theatre menu is a hit.
With choices that cleverly echo the full menu, you can get the 'Red Onion' flavour and start your night out in laid back, fun style.
---

is it good value?...
Aiming to provide a quality dining experience for everyone, John Quigley has kept his pricing policy competitive. For that, we salute him. Pre-theatre dining won't set you back much, and you can enjoy a third course for very little more.
All salads and sandwiches offer extremely good value, and are very satisfying indeed. Prices for mains vary according to what's fresh today. All things considered, Red Onion offers excellent value for money.

price check?... [ ? ]
| | | |
| --- | --- | --- |
| Lunch | | ££ |
| Set Lunch | | - |
| | | |
| Dinner | | ££ |
| Set Dinner | | - |
| | | |
| Pre-theatre | | ££ |
| Post-theatre | | - |
| | | |
| House Wine | | ££ |
---

when is it open?...
 food served

Mo 11:00 - 23:00

Tu 11:00 - 23:00

We 11:00 - 23:00

Th 11:00 - 23:00

Fr 11:00 - 23:00

Sa 12:00 - 23:00

Su 12:00 - 23:00
---

location, location, location...
247 West Campbell Street, Glasgow G2 4sq
(nearest cross street: Bath Street)

phone...
+44 (0) 141 221 6000 / main


web...

email...
---

[CONFIDENTIAL]
We are always working on all sorts of new features at topsecretglasgow.com - including highlights of the most buzzing events and the local low-down on those streets and areas with the best of Glasgow.

We'll reveal the top secrets that many locals don't even know and steer you to the wonderful things that often lie in the shadows of the classic places in Glasgow.

If you want to be first onto these new top secrets, then just use the simple form below to pass us your email address and first name. We'll be in touch... "confidentially"!

---