Stravaigin Cafe Bar
A Top West End Forever-Favourite Bistro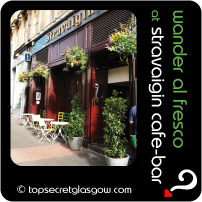 ---
EAT

an eclectic Scottish/European mix

in a

cafe-bar
---

why should you go?...
Stravaigin has been a local favourite for more than 20 years, and it's no surprise why. Step inside, to be assaulted by the vibrant atmosphere, seated by chatty staff and offered one of the most imaginative menus on offer anywhere.
Ingredients are primarily Scottish – expect salmon, organic chicken, haggis here and there – and specials change on a daily basis. Welcoming in summer with wide open French windows, and cosy in winter with subtle golden lighting, Stravaigin is always hard to resist.
---

who goes there?...
West-Enders, students.

what's it like inside?...
Stravaigin has been around for ages, and aren't West End locals pleased about that? Occupying a prime position on this short bustling chunk of ever-popular Gibson Street, this much loved venue has a basement restaurant as well as the ground floor café bar.
The café bar has dark stained wooden walls covered in big prints and mirrors, golden lights illuminating the chattering diners. When the sun shines, part of the front wall opens up, lighting your chance to eat al fresco.

how are the staff?...
Stravaigin is definitely a laid back place, full of laughter and people having fun. This is helped by the chatty staff; more than happy advise on what's good for you today. It really feels as if the staff know just about everyone in Stravaigin, which adds to the great community atmosphere.
Table service is pretty good too, with everything arriving before long, and glasses being topped up regularly.

what's tasty on your plate?...
Stravaigin Café Bar is a local brunch favourite – it's just the place to read the Sunday papers. Food is rich and satisfying, whether or not its brunch you're after. The menus change on a regular basis. Check out one of the mirrors (really) for today's specials. Smoked salmon is always a favourite, so why not try it with beetroot capriccio and a Bloody Mary dressed cucumber salad?
Vegetarian options are imaginative, and might include baked pumpkin with hazelnut crush and wild mushrooms. Belgian chocolate polenta cake tempts from the puddings list.

what's the speciality of the house?...
Today's specials are scrawled artfully on a huge mirror, reflecting the quality fresh dishes on the menus. Stravaigin is one of the best places to drop in for brunch – it can be pretty busy, especially on the weekends.

what's good in your glass?...
Stravaigin knows its customers very well indeed, and makes sure they keep (happily) coming back. So, there's a good selection of bottled beers and a couple of drafts. Stravaigin's collection of malt whiskies is also pretty impressive.
Wines have an "around the world" emphasis, so those looking for a full bodied red or something dry and sharp will not be disappointed.

what else should you know?...
Stravaigin has been so successful that it has given rise to two other venues within, what is, a growing family. And they are both also in the West End…Stravaigin 2 is just off Byres Road, in Ruthven Lane, and Liquid Ship is near St George's Cross on Great Western Road.
Of course, you could just come back to the original Stravaigin again, and treat yourself to a quality dining experience in the classy basement restaurant.
---

is it good value?...
Stravaigin is in a perfect position on Gibson Street, with a crackling atmosphere, chatty staff and adventurous menu. With all of this on offer, at prices that don't sting, it's really no wonder Stravaigin remains a local favourite, even after so many years trading.
Stravaigin's quality pre-theatre and lunch menus offer truly excellent value for money.

price check?... [ ? ]
| | | |
| --- | --- | --- |
| Lunch | | ££ |
| Set Lunch | | ££ |
| | | |
| Dinner | | ££ |
| Set Dinner | | - |
| | | |
| Pre-theatre | | ££ |
| Post-theatre | | - |
| | | |
| House Wine | | ££ |
---

when is it open?...
 general opening

Mo 11:00 - 24:00

Tu 11:00 - 24:00

We 11:00 - 24:00

Th 11:00 - 24:00

Fr 11:00 - 24:00

Sa 11:00 - 24:00

Su 12:30 - 24:00
 food served

Mo 11:00 - 22:30

Tu 11:00 - 22:30

We 11:00 - 22:30

Th 11:00 - 22:30

Fr 11:00 - 23:30

Sa 11:00 - 23:30

Su 12:30 - 22:30
---

location, location, location...
28 Gibson Street, Glasgow G12 8nx
(nearest cross street: Otago Street)

View Larger Map

phone...
+44 (0) 141 334 2665 / main
+44 (0) 141 334 4099 / fax

web...

email...
---

[CONFIDENTIAL]
We are always working on all sorts of new features at topsecretglasgow.com - including highlights of the most buzzing events and the local low-down on those streets and areas with the best of Glasgow.

We'll reveal the top secrets that many locals don't even know and steer you to the wonderful things that often lie in the shadows of the classic places in Glasgow.

If you want to be first onto these new top secrets, then just use the simple form below to pass us your email address and first name. We'll be in touch... "confidentially"!

---