The Left Bank
Multi-level Areas, Multi-influenced Menus; Cool West End Dining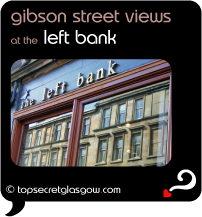 ---
EAT

modern European

in a

cafe-bar
---
why should you go?...
The Left Bank demonstrates a wide range of culinary influences, imaginative use of ingredients and a funky multi-level décor. It has quickly become a local favourite. Carnivores, vegetarians and vegans are catered for with laid back style.
So if you want to while the time away reading the papers, or catch up with friends while watching Gibson Street's activities slide by the huge windows, this laid-back West End spot is right for you.
---
who goes there?...
Students, ex-students, local trendies.
what's it like inside?...
There is nowhere else quite like The Left Bank. Huge windows let in plenty of light from Gibson Street, gently illuminating all the multi-level nooks and crannies where friends are catching up and having a fantastic time. Music is contemporary, on the 'up' side.
Wait staff dash from level to level, bearing meals and drinks to locals, who might just be sitting on a padded bench in the window, reading the newspapers. Décor makes use of natural wood tones and glass. The Left Bank is warm and welcoming by day, glowing through those big windows by night.
how are the staff?...
Wait staff are young and fit – you'd have to be with all those stairs to negotiate. There is a surprising range of menu options, and help with decisions is always to hand. The Left Bank is cool and hip, wait staff know this, and they make sure all guests enjoy themselves.
what's tasty on your plate?...
There are several menu options to choose from. You can have brunch, lunch until 5pm, tapas-style starters, all day mains 12 noon to 10pm, or choose from the evening or prix fixe menus too. Goodies include porridge with various yummy sides to add, for brunch.
Lunch might include a sweet potato and chickpea falafel with cucumber and carrot riata, and an evening meal could be one of The Left Bank's amazing burgers, complete with one (or more) scrumptious toppings.
Look out for not just vegetarian, but also a large selection of vegan dishes throughout the menus. There are even vegan puddings, like the elderflower, melon and raspberry jelly with honey and ginger frozen yoghurt.
what's the speciality of the house?...
Merely sitting in The Left Bank feels special. The menus are so wide-ranging in their influences, no one dish can demonstrate what's on offer. However, another mention of the vegetarian and vegan choices is worth making. Doesn't puy lentil and red rice salad with spinach and tossed pine kernels sound mouth-watering?
But don't despair, meat eaters. You can treat yourself to char grilled Aberdeen Angus, or molasses glazed grilled halibut with ancho chillis and watermelon salsa. It really is the imagination in the menus that is The Left Bank's speciality.
what's good in your glass?...
There are eight draft beers and eight bottled beers to choose from at The Left Bank. A small but well chosen cocktail list, as well as smoothies, demand attention. But then cocktails always do that, don't they? The wine list demonstrates a good combination of European and new world labels.
All are available by small and large glass sizes, as well as by the bottle. Except the Taittinger, which is only available by the bottle.
what else should you know?...
There is a graduation menu available at The Left Bank. Being smack in the middle of Glasgow University, and a favourite with students, this makes perfect sense.
---
is it good value?...
Brunch, lunch and a choice of The Left Bank's tapas-style starters will set you back by much. Sitting in one of the many funky small areas, sipping a cup of tea or a pint, reading the papers or chatting with friends and being under no pressure to move on, value is offered by The Left Bank. Echoing this philosophy, the all day mains, evening and prix fixe options won't have you digging too deep either.
price check?... [ ? ]
| | | |
| --- | --- | --- |
| Lunch | | ££ |
| Set Lunch | | ££ |
| | | |
| Dinner | | ££ |
| Set Dinner | | - |
| | | |
| Pre-theatre | | ££ |
| Post-theatre | | - |
| | | |
| House Wine | | ££ |
---
when is it open?...
 general opening

Mo 09:00 - 24:00

Tu 09:00 - 24:00

We 09:00 - 24:00

Th 09:00 - 24:00

Fr 09:00 - 24:00

Sa 10:00 - 24:00

Su 10:00 - 24:00
 food served

Mo 09:00 - 22:00

Tu 09:00 - 22:00

We 09:00 - 22:00

Th 09:00 - 22:00

Fr 09:00 - 22:00

Sa 10:00 - 22:00

Su 10:00 - 22:00
---
location, location, location...
33-35 Gibson Street, Glasgow G12 8nu
(nearest cross street: Otago Street)

View Larger Map
phone...
+44 (0) 141 339 5969 / main

web...
email...
---
[CONFIDENTIAL]
We are always working on all sorts of new features at topsecretglasgow.com - including highlights of the most buzzing events and the local low-down on those streets and areas with the best of Glasgow.

We'll reveal the top secrets that many locals don't even know and steer you to the wonderful things that often lie in the shadows of the classic places in Glasgow.

If you want to be first onto these new top secrets, then just use the simple form below to pass us your email address and first name. We'll be in touch... "confidentially"!

---