Gamba
Serves Up an Exciting Seafood Menu in Superb Golden-Glow Surroundings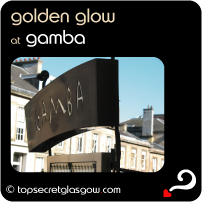 ---
EAT

seafood

in a

restaurant
---

why should you go?...
Gamba serves up what many consider to be the very best seafood in Glasgow - and we agree. Step into the golden glow of this tasteful restaurant and prepare for a treat. The menu exudes expertise and enthusiasm for fish, while offering tasty vegetarian and meat dishes as well.
It caters extremely well for those on more limited budgets, with excellent set menus and a great value pre-theatre menu. Gamba is a Glaswegian gem, serving up the very best dishes to enthusiastic locals.
---

who goes there?...
Business people, romantic couples, theatre goers.

what's it like inside?...
Cosy and inviting, Gamba exudes confidence and top notch quality. The decor suggests the Mediterranean, with subtle lighting and window shades that create a golden glow over everything.
In the centre of Glasgow's main business district, close to most city centre theatres and a stone's throw from bustling shopping areas, Gamba has strong appeal. Now established as Glasgow's premier seafood restaurant, it thoroughly deserves this accolade.

how are the staff?...
Staff are quiet and unobtrusive. They also have expert knowledge of the dishes on offer, which is a distinct advantage, given the mesmerising choices of fish and seafood on the menu. The questions are confidently answered - let's face it, not everyone is lucky enough to have regular exposure to the Gamba delights on offer!
It comes as no surprise to hear that it has won several prestigious awards in the recent past, including 2 AA Rosettes and twice winning the Auchentoshan 'Spirit of Glasgow' restaurant of the year.

what's tasty on your plate?...
Gamba offers lunch, pre-theatre, a la carte and set menus. Daily specials provide exciting supplements to savour, depending on what's fresh. Vegetarian and non-seafood options are always available. The pre-theatre menu successfully reflects the a la carte menu.
Expect such delights as fish soup with prawn dumplings, grilled halibut in a scallop cream, and fillet of Buccleuch Estate beef with shitake mushrooms. Desserts might include spiced rum parfait with cinnamon and stewed apple. All melt-in-the-mouth perfection.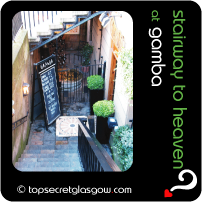 what's the speciality of the house?...
Specials literally change daily, according to what's fresh - and unusual. Whatever that turns out to be, you can be certain of expert preparation by Gamba. Worth noting from the a la carte menu are the Marrbury smoked salmon with chilli jam, crème fraiche and lemon, and the whole roasted sea bass with grilled roast peppers, shrimps, basil and sweet soya.
I could go on forever, but I think you've got the idea - we love this place.

what's good in your glass?...
Gamba offers an extensive wine list. Featuring wines from Europe and around the world, recommendations are made about what will best complement your meal. Several are available by the glass. A Spanish Tempranillo may suit your sea bass, or perhaps you prefer an oakey Chardonnay with fish.
They will find something to suit all tastes fron its extensive and thoughtful wine list. Of course, soft drinks and some bottled lagers and beers are available.

what else should you know?...
Set menus for large groups can be arranged on request. Gamba has affiliate status with other restaurants and bars, which just means that they have the same proactive attitude to high quality and customer service.
From these associations, we recommend Blue Dog, Booly Mardy's and Vroni's for excellent friendly bar experiences, and Urban Grill for quality dining. Check out our full reviews for yourself.
Gift vouchers in £10 and £25 denominations are available from Gamba.
---

is it good value?...
Gamba serves up one of the best dining experiences in Glasgow. And it certainly can claim to be the very best seafood restaurant in Glasgow. This quality does come at a price. However, Gamba also recognises that lovers of seafood don't automatically have deep pockets - hence their wonderful set menus, good value pre-theatre menu and their participation in DineAround.
DineAround is a Glasgow wide promotion organised each summer by VisitScotland. They do very well making their quality offering available to as many as possible, and we welcome their efforts with a big thank you.

price check?... [ ? ]
| | | |
| --- | --- | --- |
| Lunch | | - |
| Set Lunch | | £££ |
| | | |
| Dinner | | £££ |
| Set Dinner | | £££ |
| | | |
| Pre-theatre | | ££ |
| Post-theatre | | ££ |
| | | |
| House Wine | | ££ |
---

when is it open?...
 food served

Mo 12:00 - 14:30 / 17:00 - 22:30

Tu 12:00 - 14:30 / 17:00 - 22:30

We 12:00 - 14:30 / 17:00 - 22:30

Th 12:00 - 14:30 / 17:00 - 22:30

Fr 12:00 - 14:30 / 17:00 - 22:30

Sa 12:00 - 14:30 / 17:00 - 22:30

Su  closed
---

location, location, location...


225a West George Street, Glasgow G2 2ND
(nearest cross street: West Campbell Street)
View Larger Map

getting there...
| | | | |
| --- | --- | --- | --- |
| | parking | | |
| | private | | |
| | public | Sauchiehall Centre | walk in 5 |
| | rail | | |
| | underground | Buchanan Street | walk in 10 |
| | overground | Glasgow Central | walk in 10 |
---

phone...
+44 (0) 141 572 0899 / main
+44 (0) 141 572 0896 / fax

web...
visit their website



email...
---

web booking...
book at their website



email booking...
not available
---

[CONFIDENTIAL]
We are always working on all sorts of new features at topsecretglasgow.com - including highlights of the most buzzing events and the local low-down on those streets and areas with the best of Glasgow.

We'll reveal the top secrets that many locals don't even know and steer you to the wonderful things that often lie in the shadows of the classic places in Glasgow.

If you want to be first onto these new top secrets, then just use the simple form below to pass us your email address and first name. We'll be in touch... "confidentially"!

---