Glasgow West End Festival
Gives Us A Fab Time, In A True Friendly Local Spirit

glasgow west end festival: 13 – 29 june 2008...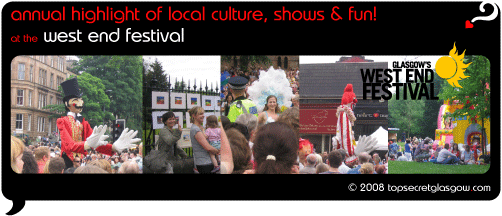 It's nearly That Time of the year again. The one when the sun shines on the West End of Glasgow while locals and visitors get out and enjoy a HUGE range of different concerts, shows, parties, parades and general good times.
Top Secret agents were out in force last year, catching the best of what was going on. I'm Agent Y, and I'm going to share some of the findings from their reports.
I'll then give you a few suggestions about the best places for a cup of tea, something stronger, or for a snack or meal that will make your 2008 Glasgow West End Festival a little more special.
Some of the places I think are the most special are West End "classics". And others may be places you've never even heard of. Whatever you decide to try, Top Secret choices are always at the top of their game. So you'll be in very good hands.
Send your reports and photos of your Glasgow West End Festival adventures to Top Secret, and we'll make sure you get your very own Top Secret web pages, ready to share with your friends.

where to get the best glasgow west end festival listings...
Alright, off we go. For the very best place to see the complete Glasgow West End Festival timetable visit the official festival site where the hundreds of events are laid out in easy to follow sections.
These are:
families & children
theatre & dance
music: classical, choral
music: jazz, folk, blues, rock
exhibitions
film
comedy
walks
going out
misc. events
Or you can pick up a free printed brochure. They are EVERWHERE at the moment, in bars, shops and off licenses all over the West End. Ask at the counter and see if they have any left. That's what I did, and it worked fine!

making the most of your 2008 glasgow west end festival...
I've thought long and hard about the coolest way of sharing the best of the West End's best with you. About how to share those secrets, and maybe connect them to what's happening during the festival. And I came to this decision…with SO MUCH to tell you I'm going to keep what I say nice and clear.
We're lucky to have a picture-postcard West End that fits into quite a compact area, really. So I'll mention some personal highlights from the festival timetable, and some of the best places to take a load off and relax for a while…leaving the rest (the good, fun times!) to you.
Without any doubts, the events that show-off the West End as such a cool community are the Opening Parade and Street Party – Scotland's Mardi Gras – and the Friends Of River Kelvin (FORK) Gala.
Thousands line the parade route from the Glasgow Botanic Garden, along Byres Road and Dumbarton Road to Kelvingrove Park. There are barbeques, bands, kids clambering onto Dad's shoulders, and lots of laughter.
Add funky stalls and bouncy castles to this image, and you have an idea of the fun to be had at the FORK Gala. I hope you like the photos our Top Secret agents took last year. They really capture the fun of both events.
This year, the FORK Gala bursts into life on Saturday 14 June from 11am – 4pm. The parade boogies and struts from the Glasgow Botanic Garden at 3pm on Sunday 15 June, making its way to Kelvingrove Park for the opening party by about 4.30pm. Roll on!
More than a dozen parading bands are expected, along with paraders in costume from more than twenty-five groups. And all are intent on amazing and dazzling us. I can hardly wait…

time for drinkies!...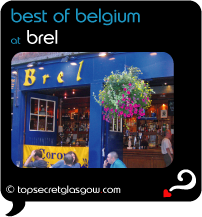 During the West End Festival, rather a lot of booze slips down a treat. And why not? We're a sociable bunch, and the sun's shining… No wonder I'm talking about places where you can sit outside, taking in those rays as well as a drink or two!
A beacon to good taste and fun times is Cottier's Bar, hidden in its own leafy west end nook (sorry about the cliché, but in Cottier's' case, it really rings true).
They tempt you with the glorious smell and taste of a delicious BBQ on weekends, a beer garden in two cute corners and a bar laying on food for both inside and out. What a treat!
Brel in Ashton Lane also has an outside beer garden. Well, it's more like a beer hill, to be honest. Popular and busy, what with all those imported Belgian beers, you'd never guess all that grass was there, just waiting to be lounged on right through the West End Festival (and beyond!)
Opposite Brel, more or less, on Ashton Lane, lies The Big Pub @ The Ubiquitous Chip. Yes, it really deserves its "west end classic" tag. The windows are flung open in summer, there's now a little roof terrace, and no music.
So you can chat without having to yell, and then browse the most amazing choice of wines, plus Furstenburg lager on tap. Watch out – that stuff has quite a kick!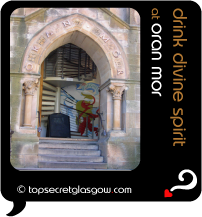 Oran Mor is one of the main venues for the 2008 Glasgow West End Festival. With a multi-purpose venue; including restaurants, bars, a beer garden and space large enough for concerts, Oran Mor brings a lot to the West End.
What you might not guess is just how lovely the stained glass and structure of the restored building are. Plus all those whiskies behind the bar!
If you feel like a saunter to a place that's away from the Glasgow West End Festival buzz for a while, I have good news for you. A real local secret is Chinaski's.
Near the M8 at Charing Cross, it's still only a five minute walk from the east end of Kelvingrove Park, and a fifteen minute stroll from Kelvingrove Art Gallery and Museum. Chinaski's beer garden hides a little urban miracle – but you'll need to hunt a bit, to find it. Have fun...

a meal would be nice…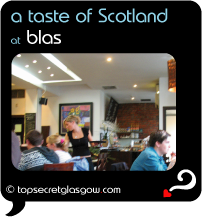 The West End of Glasgow prides itself as one of the very best areas of the city, when it comes to a top-notch meal. What are you in the mood for, slipping down a treat at the end of your perfect West End Festival day?
If its fresh fish, prepared with best Scottish ingredients, you'll need to try Two Fat Ladies West End. Around since 1991, and hard to find if not for the astonishing grille on the wee front window.
Locals in the know see it as a West End classic. And I agree. Showing passers-by almost no clues, step inside and feel like you're in a small but well-formed dining room at home.
Quality Scottish meals don't come much better than Blas, right across the road from Kelvingrove Art Gallery and Museum. At lunchtime, Blas Platters let you try small tastes of all sorts of Scottish treats, and dinner is an in-the-face fab assault on the senses. Amazing stuff, from the very best around.
You might have heard that curry spices up almost every corner of Glasgow, and that locals just can't get enough. Did you know that Glasgow stakes its claim as best place for a curry in the UK, outside Birmingham?
And did you know that Balbir's on Church Road delights with some of the best veggie curry – anywhere? Meat dishes are served too, but the mouth watering veggie choices are simply divine. Speaking of divine dishes, Spanish tapas always offers good fun. All that sharing with friends, and during a fun festival with a fab atmosphere, what could be better?
Cafe Andaluz West End hides away near Byres Road, out of sight on cobbled Cresswell Lane. A BIG menu offers more choices that you could shake a piñata stick at, and some genuine Spanish staff will look after you. The decor and atmosphere are both impossible to fault.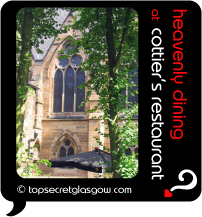 Moving from Spanish to South-American style, Cottier's Restaurant knows how to please. Fun fajitas and lots of cajun spice and lime with sour cream show-case the quality meals served here.
In the eaves of a restored church, and the promise of the beer garden waiting outside later on, finding the little Cottiers oasis will pay back your efforts – big time. A perfect place to unwind during the West End Festival.
Also on my Top Secret gallop through some of the West End's best, waits The Bothy. Think Scottish comfort food, with a few Euro-twists, and you've got the picture. It really does feel like sitting in an old bothy.
And it doesn't hurt when the pretty waitresses and handsome waiters serve us in kilts. What a sweet thing to do!

I could murder a cuppa and a sanny…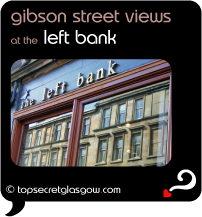 With so much to see and do, you may well find that you only have time for a snack, and a little caffeine pick-me-up. The kids may be happy with a sandwich and glass of orange juice.
On Byres Road, check out the buzz around Heart Buchanan and Kember & Jones. Both fab little delis, full of all sorts of treats, you can either sit down to enjoy, or grab and carry out the door, back into the West End Festival fun.
Heart Buchanan splits in two, with a little café opening onto the street and a deli to the left.
While Kember & Jones boasts part shop, deli and café all rolled into one bright package. Check out the cookery items for sale in Kember & Jones too… and cute little tables out on the street.
Ready for a Byres Road champion like Little Italy? A shot of strong coffee and a slice of their yummy pizza, dripping with cheese and fresh from the oven, will keep you on the move. While waiting for your fresh pizza, listen to real Italian radio, close your eyes and dream of the Neapolitan Riviera…
Hidden from view of Kelvingrove Park and very near Kelvingrove Art Gallery and Museum is Montgomery's Coffee House. You can sit outside here too, or grab a table in the cool interior and have a bowl of home made soup and a toasted panini. Then up you get to explore more West End Festival delights.
A super venue after a walk round the park, known only by a few locals. Whatever you do, don't tell anyone I let you into their secret!
On the other side of Kelvingrove Park, close to Glasgow University and the Hunterian Museum sit Left Bank and Stravaigin, on Gibson Street.
Rest those weary feet in The Left Bank and grab a cup of tea or coffee, then head out for more fun in the West End Festival. If you and your mates are tired out, why not read some of the papers lying around? Or people-watch, of course. With always something to see on Gibson Street, and many different Left Bank levels to choose from, everyone will have a view…
Across the street, head for a West End classic, Stravaigin Cafe Bar. The ground floor café-bar fills up with locals all the time. Sample a plate of the best haggis in town here – it was recently voted 'Top Haggis' by celebrity chef Nick Nairn.. Loved by locals and visitors alike, you'll be tempted to sit around here for an age. Don't say you weren't warned.
Now listen carefully. This really IS brand new and ultra Top Secret - and just in time for Glasgow's West End Festival. Please don't tell a soul. Delizique, the uber-cool deli, has been looking after us for years now. And its sister, Cafezique, finally opened on 1 May this year. Totally bril from start to finish, they bake their breads and cakes in Delizique, then skip the 10 yards down Hyndland Street to Cafezique.
Stuffed full of organic and free-range super-snacks, as well as glorious dinners, Cafezique has found a place in our (Top Secret) hearts already. But, like I said, keep this one quiet. Few people know about this gem yet, and we'd like to keep it that way. Thanks.

any decent shops round here?...
Wow! You've got some staying power; I can see that for sure! And you're in the right place. Glasgow's West End is STUFFED with little, unique places, where you can spend hours rummaging and browsing all sorts of lovely, pretty things during the West End Festival.
Nancy Smillie presents a treasure trove for locals to hunt through to their hearts content. Nancy knows a good thing when she sees it. So do locals, who've been visiting her for years now. You can pick up something perfect for yourself, or even find a perfect gift for those people usually impossible to buy for.
Which reminds me of Mr Smith. Byres Road promises the perfect place to find a boutique specialising in men's swimwear and underwear. Their gift vouchers help everyone buy the perfect gift for the men in their lives!
Cassiopeia lurks a mere five minute walk from Byres Road, up Highburgh Road, nestling in a row of local shops. Step inside for a natter with the owner, and browse for as long as you like before deciding from their super range of lovely stuff.
Next door to Stravaigin is the wondrous Designworks. Home to interior designers this magical box doubles as a shop selling gorgeous ornaments and pretty pieces that you know will look perfect when you get them home…
Of course, there are MANY other events taking place in Glasgow's West End Festival, like [Bard in the Park] (open air, on-the-hoof Shakespeare) and concerts in the lovely Kibble Palace. So take your time, read the info, make your choices, have fun… then tell Top Secret all about it here...
---
share a great story about Glasgow's west end festival...
Do you have a special story about Glasgow's West End Festival? A funny experience? A grand occasion? A funky photo? A personal tip? A top secret?

Well… spill!...

(need some inspiration? Ok - then check out West End Festival stories from your fellow visitors first...)