get on the VIP list
and be first to hear ALL the news about Glasgow...

Be a "Top Secret Glasgow VIP". We are always working on all sorts of new features... the most buzzing events... the "insiders" low-down... the key to the very best of Glasgow.
We'll reveal top secrets that many locals don't even know about - often in the shadows of the classics.
If you want to be first onto these new top secrets, then just use the simple form below to pass us your email address and first name. We'll be in touch... "confidentially"!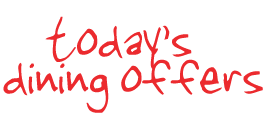 Impressing the folks
by Sarah
(Perth)
My Mum has a passion for chicken liver pate! And fresh baked oatcakes. Don't ask me why, 'cos I've no idea. Then I heard that The Sisters make their own - pate AND oatcakes.

So I took Mum and Dad for dinner the last time they visited me in Glasgow (I'm from Perthshire). They were both bowled over. I suspected they would be. Mum even said she'd tasted the best chicken liver pate and oatcakes ever. Except her granny's, who NEVER gave away her recipes!

At the time, Dad said very little, because his face was full of chicken stuffed with haggis.

All in all, we had a wonderful meal at The Sisters Jordanhill. We sat inside, because Dad like to protect his wee bald bits from the sun!