Glasgay!
The (Glitzy) Bitch is Back!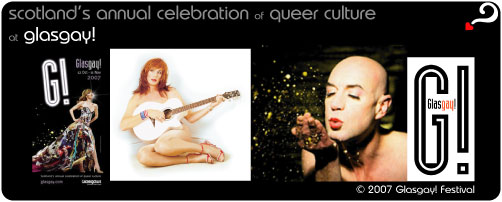 Award-Winning Festival Now in its 14th Year...
Glasgay! ...is back!
Glasgow has always been proud of the diverse nature of its culture and heritage. So it makes sense that we should welcome it home every autumn. Make no mistake; this has become one of the biggest, hottest and most successful annual festivals held in the whole country.
Going from strength to strength, and celebrating its 14th year in 2007, Glasgay has evolved into a rather attractive proposition, and now can boast performances from world famous acts as well as home grown talent. As the proud host city, Glasgow happily welcomes many people who travel long distances to attend the events.
One of the nicest things about Glasgay (and there are many!) is that events and performances are certainly not limited to LGBT (that's Lesbian, Gay, Bisexual and Transgender) folks. All events are open and friendly. Basically, anyone interested in the arts on show is welcome to attend.

A Good Time Starts Here...
I want to make sure you have as good a time as possible while attending Glasgay, whether you're new to the city, a returning guest or a local.
You know how it goes. You're busy with everyday life, and you're going to the theatre this evening. What are you going to do about eats?
Or you're going out with friends to a play or a concert, but you're not sure where to go for a decent drink afterwards. What's near the venue? Where can I be guaranteed the perfect dry martini? Or pint of Guinness!
And, unless specifically noted here, all of these recommendations (usually) attract a broad mix of customers, gay, lesbian, straight and everything in-between.

Making the Most of Glasgow and Glasgay…
Top Secret Glasgow has been working hard. We've been preparing 5 Top Secret "Missions". We want to make sure that visitors to Glasgow – as well as locals – make the most of this fantastic city. Paying attention to the venues that host Glasgay events, these missions will provide an insight to the best that Glasgow has to offer, and let you see where locals enjoy most. Indeed, the best of the best will be at your feet.
Here are your Top Secret Missions. Should you choose to accept them, a good time awaits…
Just click on them to get the full story.

G! Explore Glasgow's Merchant City Magic
G! Yes, You Can Have Fun in the Financial District
G! Ride Out to the Wild West (End)
G! Sleep-off Your Excesses... and Stay Safe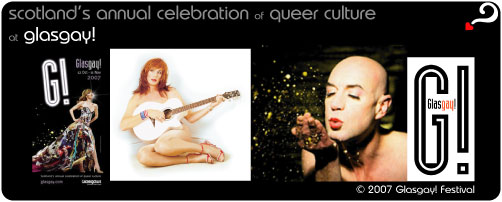 ---

[CONFIDENTIAL]
We are always working on all sorts of new features at topsecretglasgow.com - including highlights of the most buzzing events and the local low-down on those streets and areas with the best of Glasgow.

We'll reveal the top secrets that many locals don't even know and steer you to the wonderful things that often lie in the shadows of the classic places in Glasgow.

If you want to be first onto these new top secrets, then just use the simple form below to pass us your email address and first name. We'll be in touch... "confidentially"!

---