Glasgay!
Get High in Garnethill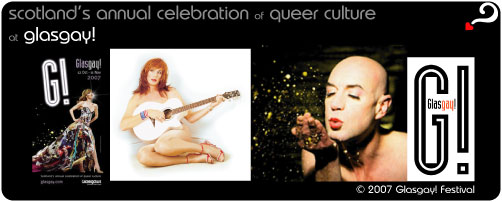 Glasgay 2007 is well at home in the lofty peak of Garnethill. Most famous for Glasgow School of Art and The "GFT", both are associated with this year's festival. In and around this area of Glasgow, there are fantastic places just waiting to be discovered. I've written about my favourites right here.

Go West (Young Man)… along Sauchiehall Street…
It's now time to visit the Glasgay venues that are slightly removed from the Merchant City. Let's have a look first at Glasgow Film Theatre, Glasgow School of Art and the Centre for Contemporary Arts (CCA). All host Glasgay events, and are close together along Sauchiehall Street from George Square.

From Art House Screens…
Glasgow Film Theatre is Glasgow's art house cinema, and is a local institution. Immediately left on entering, you'll find the cosy Café Cosmo – just the place for a beer before the movie of your choice begins. GFT has two screens, and remains as popular as ever.
Here's an example for you… every Christmas, GFT shows the ever so slightly crimbo-camp of It's A Wonderful Life to packed audiences who cheer and clap at the end. Aaahhh!
This year's Glasgay programme has everything a gay boy or girl could want… dreamy dates, devilish dramas and cookie comedies. And all with ample portions of those gay relationship essentials… self-destruction, love, sex and oodles of top totty. Can't wait!

… to Art School Screams…
Glasgow School of Art covets one of the most famous buildings in Scotland. It was designed and build by Glaswegian style guru Charles Rennie Mackintosh. If you have time, take one of the guided tours. These are often put on by existing students, and are enthralling. It's great to see behind the scenes, and to realise that 100 years on, it really is a working building. Don't forget your camera.
In 2007, The Art School hosts Utter Gutter club on 13 October to get Glasgay underway, and on 10 November as a birthday bash. Nights of disco heaven await.

Up for a Fix of 'Fit'?...
Centre for Contemporary Arts is renowned for putting on alternative and often challenging art shows. So it fits with the Glasgay ethos very well indeed. There is a café and shop too, in what really is a very versatile space. You might want to check-out their Fit production at this year's festival…

Perk-up Your (Pre/Post) Performance?...
For wonderful food, served pre-theatre or post-event, you're spoiled for choice around here. The best food is served by Red Onion, Gamba and Baby Grand. (If you are long familiar with the Glasgow gay scene, you'll remember the site now taken up by Gamba as the Squires bar of old, and may even shed a tear for its passing?)
[CONFIDENTIAL] we're working on a special feature on the very best secrets for great nights out in Glasgow's City Centre. Why not sign-up now and be first to find out about all new topsecretglasgow.com reports? Just pop in your email address and first name and you're sorted...


Sips In The City…
In my humble opinion, there are several watering holes well worth a visit near sauchiehall Street. As well as being a good bet for a cracking meal, The Baby Grand is also a boozing hang-out for local arty types in need of a drink (and even many luvvies – that's actors and crew - from the nearby Kings Theatre).
Other local bars worth a look are the cool cocktail vibe of the Blue Dog and the well-tucked-away top secret charms of The Universal – well worth the effort in finding it.
Lastly, but by no means the least of my recommendations is The Pot Still for some comfy old world charm that locals love so much (well, it's either that or the hundreds of whiskies that line the ceiling-high shelves?)
A short stagger further away from GFT and CCA, one of the coolest places for food and drink is Chinaski's, just over the M8 and in the shadow of the Mitchell Library. Its decked garden has plenty of heaters to allow you to stay outside in the autumn weeks of the festival. Check out the bar – it dominates the space in Chinaski's, screaming 'dry martini' at you in a 1920's jazz-vibe. We love it…
Time for more? Next stop on these five Top Secret Missions to make the most of Glasgay 2007 is Glasgow's West End. Or skip to any other missions that take your fancy...

Intro...
Glasgay! Scotland's Annual Celebration of Queer Culture
Top Secret "Missions"...
G! Explore Glasgow's Merchant City Magic
G! Yes, You Can Have Fun in the Financial District
G! Get High in Garnethill
G! Ride Out to the Wild West (End)
G! Sleep-off Your Excesses... and Stay Safe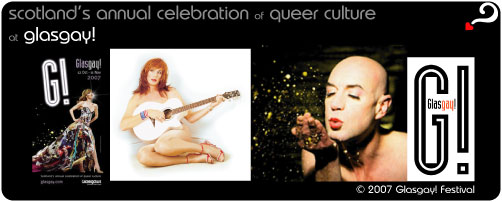 ---