Glasgay!
Ride Out to the Wild West (End)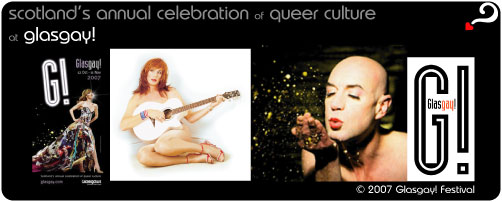 Welcome to the fourth Top Secret Mission for Glasgay. The West End is one of the most bohemian areas in Glasgow, and most places are extremely gay-friendly. Life along Byres Road is always exciting, along with the wonderful bars and restaurants on Ashton Lane, Cresswell Lane and Ruthven Lane.
The only venues featuring Glasgay events in 2007 are The Stand and Kelvingrove Art Gallery and Museum, so I've concentrated my efforts there for you. Then I've given you a few thoughts about the best of the rest.
Go (Way Out) West!…
This being Top Secret Mission 4 out of 5, our tour of Glasgay's main venues is coming to a close. But not before I mention The Stand. It plays host to quite a few Glasgay events, and is the only venue in the West End, just round the corner from Gibson Street into Park Road. Events at The Stand play to tiny but packed houses, so be quick getting a hold of tickets.
After The Stand, Time For A Seat…
Just around the corner from The Stand, for both food and drink, I recommend The Left Bank and Stravaigin Cafe Bar on Gibson Street.
Best of the Rest of the West…
However, Glasgow's West End has so much to choose from, and is generally LGBT friendly, so you might decide to spread your wings further. For the good times, head over to Ashton Lane, Cresswell Lane, Ruthven Lane and Byres Road.
While in the West End, head over to Kelvingrove Art Gallery and Museum. Refurbished and re-opened summer 2006, millions visit each year. Among the many treasures on show is Dali's painting of Christ on the Cross. The perspective is just astonishing.
However, the main reason to go during Glasgay is to take in the travelling Kylie exhibition. Yes, the Princess of Pop comes to Glasgow. Or at least some of her costumes are on show. Marvel at the overalls she wore as Charlene in 'Neighbours', and admire the gold hot pants she squeezed into for the 'Spinning Around' video. In fact, this is such a big deal that Glasgay has set the opening party early, on 21 September in Kelvingrove Gallery, to fit in Kylie's opening…(as it were).
Directly across from The Gallery you'll see Blas. The best Scottish cuisine is there to be enjoyed, including the wonderfully inventive Blas Platters. Think 'Scottish tapas' and you've got the idea.
[CONFIDENTIAL] two new topsecretglasgow.com reports are on-the-go and will be filed soon... "A Walk In The West End" and our "Far And Wide Guide to Kelvingrove Park". For the inside track on lots of top secret places for exploring Glasgow's West End, do sign-up now and be first to find out about all our new topsecretglasgow.com reports. Just pop in your email address and first name and you're done...

Now that you've reached the end of an enjoyable Glasgay evening, I think it's time for bed, as Zebedee used to say. So hop along to Top Secret Mission 5, to snoop around for the best beds in the city…
We also tell you about a great place to touch base with all sorts of community groups and advice on sexual health.
Or if you haven't already, jump back to some of the earlier missions. Have fun!

Intro...
Glasgay! Scotland's Annual Celebration of Queer Culture
Top Secret "Missions"...
G! Explore Glasgow's Merchant City Magic
G! Yes, You Can Have Fun in the Financial District
G! Ride Out to the Wild West (End)
G! Sleep-off Your Excesses... and Stay Safe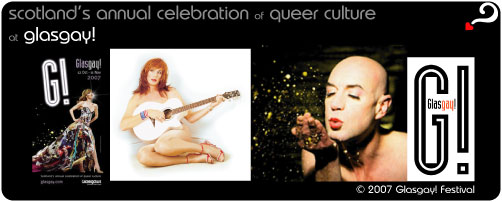 ---