Glasgay!
Explore Glasgow's Merchant City Magic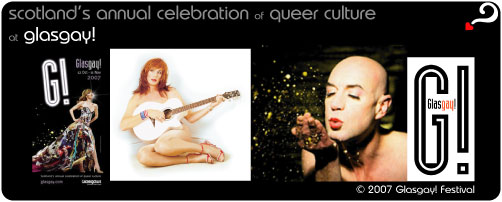 The Best of The Merchant City…
Some Glasgay venues sit within The Merchant City , or are close to it so why don't I make a start there? The Merchant City is a clearly defined area of Glasgow city centre, from George Square to the High Street and down to the Clyde. Its partly residential, has lead the way in the regeneration of Glasgow to the shiny penny we all love today, and is forever cool and cosmopolitan.
As the Merchant City is such a compact area you shouldn't have too much walking to worry about.
The main Glasgay venues in the Merchant City are The Tron Theatre, Q! Gallery and Studio and St. Andrews in the Square. Just across the river is Citizens Theatre, known locally as The Citz, and under Central Station's lines into the city is The Arches Theatre.
Although Citizens Theatre is across on the south side of the Clyde, with very little around, bear in mind that it really is only about 400 metres back to the Merchant City, where the bright lights will be waiting for you.
The Tron Theatre is a very busy and popular Glasgay venue, and has hosted the opening party in previous years. (The opening party honour goes to Kelvingrove Art Gallery and Museum, in celebration of the start of the Kylie exhibition). Several Glasgay performances will take place in its adaptable performance areas, from big crowd pleasers to more intimate shows. Having two bars and a decent restaurant makes The Tron a must, especially during Glasgay when the whole place buzzes with atmosphere.
[CONFIDENTIAL] We're working on a major feature to give you the inside track on Glasgow's Merchant City from topsecretglasgow.com. If you want to be first to hear the buzz, then just pop your email address and first name in the "3-step" form below...


Keep Your Dance Card Free for a Whirl Around the Annual Ceilidh…
One of the highlights of every Glasgay is the Ceilidh (or gay-lay as we like to call it). In the past, Trades Hall and The People's Palace on Glasgow Green have been venues for this bash. In 2007, the honour goes to St. Andrews in the Square, and it will be a Big Gay Prom Night – with an attached Ceilidh for good measure.

Best of the Glaswegian Gay Scene…
It must be clear to you, whether you're new to Glasgow or not, that there is a vibrant LGBT scene going on. Perhaps not as large as the scenes in London or Manchester, there is a definite gay quarter in this great city.
And here's the cool news for Glasgay – its right on the west boundary of the Merchant City.

Everyone's Guilty Pleasure?…
Bennets night club on Glassford Street has been Glasgow's centre of gay fun nights out for more than 25 years. Cheesy and camp, Bennets is as friendly as clubs come, and now and again even attracts hen nights (for the uninitiated, groups of presumably straight women celebrating a friend's forthcoming wedding) where the revellers can be sure of a hoot without unwanted pawing from straight males. Lesbian woman are, of course, well- catered for too, with regular woman-only nights.

Mirror Mirror On The (Toilet) Wall?...
Just round the corner is The Polo Lounge, with its huge ground floor bar, just stuffed with big armchairs and sofas. There are two dance areas and bars downstairs, open until the wee small hours. Here are a couple of Polo Lounge tips for you. Get in before 11pm and entrance is free. When you visit the loo, watch out for the mirror by the urinals – it's actually a two-way mirror. So it's a completely-clear window from the outside. Think 'Big Brother' on Channel 4 and you're there. So choose your spot with care, however that idea takes you!
You can also pop through to Bar Moda, (or enter from Virginia Street around the corner). With loud pumpin' music and a fairly young crowd, Moda is the place to meet up after a hectic shopping spree and to watch today's flavour of eye-candy do its thing.

Shop Til You Drop (Them)…
Leaving the Polo Lounge, turn right and you'll see Clone Zone tucked behind a rather anonymous looking sandstone doorway on Virginia Street. If you just have to have a DVD or magazine full of hunky bears in the scud, or sleek young euroboys or girls getting' down to it, this is the place for you. Of course, you might want to check out some of their gay and lesbian erotic fiction, or treat yourself to a pair of leather shorts while you're here. We find that a visit to Clone Zone is great fun, just to find out what's new and to catch up with the extremely cool greetings cards and calendars out this season.

Is That A Pistol In Your Pocket?...
Last, but by no means least, is Revolver Bar opposite the Italian Centre in John Street. It's a mere minute's walk from Bennets, and very different from the other gay bars in Glasgow. Cool and utilitarian, with fairly bright lighting and an industrial feel, the Revolver Bar attracts older and younger gay folks, checking out the talent and having a noisy old time of it. Their freebie digital juke box is fun and there's even a pool table tucked around the corner of the bar if you fancy playing with balls.

Perky Pre-Theatre?…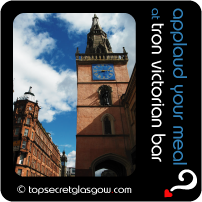 For excellent pre-theatre in the Merchant City, check out the award-winning food and funky "once-a-tree" furnishings of Cafe Gandolfi, Rab Ha's cosy bar with nibbles, Guy's Franco-Scots funkiness, Cafe Mao and it's playschool-vibrant setting for an Asian feast, Tron Victorian Bar – of course – and its close sister, Tron Bar with Amarone a mere five minute Italian-shoed walk away, on the other side of George Square.
Booking is a good idea, especially at Café Gandolfi and The Tron. In fact, The Tron plays such an active part in Glasgay that the atmosphere is constantly buzzing. Getting a table at the last minute during Glasgay is next to impossible. You have been warned!

Party Drinks?...
Now, where else do I recommend for a good drink, for either before or after the performance of your choice? In the Merchant City, it's hard to beat Babbity Bowster. Full of crumbling character, Babbity Bowster has been loved by locals since the early 80's. There is an outdoor terrace here, but during Glasgay it might feel a bit nippy for most!
The new bar, upstairs in Cafe Gandolfi is nice for a quiet chat. Of course, for more atmosphere and to soak up the happy Glasgay energy, then the proliferation of pouffes (and other comfy seats) at The Polo Lounge are where you need to be. Expect crowds and lots of fun, especially during Glasgay!
Now where? Up for another Top Secret Glasgay Mission?... There are five in total to choose from…

Intro...
Glasgay! Scotland's Annual Celebration of Queer Culture
Top Secret "Missions"...
G! Explore Glasgow's Merchant City Magic
G! Yes, You Can Have Fun in the Financial District
G! Ride Out to the Wild West (End)
G! Sleep-off Your Excesses... and Stay Safe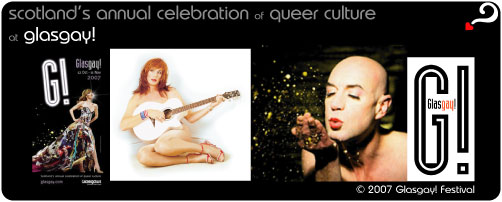 ---

[CONFIDENTIAL]
We are always working on all sorts of new features at topsecretglasgow.com - including highlights of the most buzzing events and the local low-down on those streets and areas with the best of Glasgow.

We'll reveal the top secrets that many locals don't even know and steer you to the wonderful things that often lie in the shadows of the classic places in Glasgow.

If you want to be first onto these new top secrets, then just use the simple form below to pass us your email address and first name. We'll be in touch... "confidentially"!

---