Glasgay!
Sleep-off Your Excesses... and Stay Safe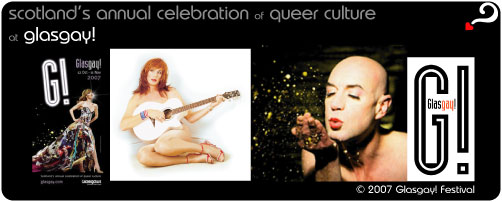 And So to Bed…
If you're visiting Glasgow for Glasgay, you'll need somewhere to crash (or flash) after your nights on the tiles. Here are recommendations for you to consider, based on different budgets.
In the Merchant City, the best places to book a room is The Brunswick. Cool and chic, The Brunswick goes for the contemporary minimalist look, creating a beautiful boutique hotel. If your budget is strong enough, there is a large (two levels, three bedrooms) penthouse to consider. While you're there, check out the bar. It isn't exclusively gay, but is a popular watering hole for the style conscious gay man and lesbian woman in Glasgow.

Treat Yourself…
Don't you just love treating yourself? There are two really swanky hotels that will let you do just that. If you want to be near The Arches and very close to Central Station, Radisson SAS Hotel should suit. Another contemporary minimalist hotel, it has a range of rooms starting with the Modern Room, up to the impressive and luxurious Apartment – all 86 square metres of it.
Or maybe you'd like some peace and quiet in the refined Victorian West End of the city. In which case it has to be One Devonshire Gardens for you. World famous and literally a home from home to many visiting celebrities, One Devonshire Gardens thoroughly deserves its top notch reputation. Wait staff in Victorian style uniforms will deliver your requests to your opulent room, or you can head to their award winning Bistro at One Devonshire Gardens for another treat.

Save Some Cash…
Of course, Glasgow will also find a bed for those on more modest budgets. The best budget hotel in the city centre is probably Jury's Inn on Jamaica Street. Close to Central Station and a few minutes walk to most of the Glasgay venues, you should feel quite at home.

We Are Family…
There are two Glasgay partner hotels in 2007 – The Crowne Plaza and Fraser Suites.
The Crowne Plaza is the big shining tower beside the SECC, and Fraser Suites in the heart of The Merchant City offer posh apartments for short leases, including an exclusive fitness suite in the building.

Stay Safe…
Before I sign off, here's a reminder of Glasgow's place to go for friendly advice, should you need it during Glasgay and throughout the year. There is a LGBT Centre on Bell Street, in the Merchant City. Of course, everyone should feel safe, clued up and supported, and Glasgow takes this responsibility seriously – leaving you free to get out there and have a ball (or two)!

Have fun at Glasgay!
Whether you're gay or gay-friendly, Glasgay and Glasgow will welcome you with open arms. Ultimately, this international festival is there for everyone to enjoy, so go for it, and let us know how much fun you've had.
For all the latest information on Glasgay! head over to the festival website.
Well that's it... five Top Secret Missions to make the most of 2007's festival. How did you get on? If you missed any of the earlier ones, they are listed below...

Intro...
Glasgay! Scotland's Annual Celebration of Queer Culture
Top Secret "Missions"...
G! Explore Glasgow's Merchant City Magic
G! Yes, You Can Have Fun in the Financial District
G! Ride Out to the Wild West (End)
G! Sleep-off Your Excesses... and Stay Safe
---

[CONFIDENTIAL]
We are always working on all sorts of new features at topsecretglasgow.com - including highlights of the most buzzing events and the local low-down on those streets and areas with the best of Glasgow.

We'll reveal the top secrets that many locals don't even know and steer you to the wonderful things that often lie in the shadows of the classic places in Glasgow.

If you want to be first onto these new top secrets, then just use the simple form below to pass us your email address and first name. We'll be in touch... "confidentially"!

---