Glasgay!
Yes, You Can Have Fun in the Financial District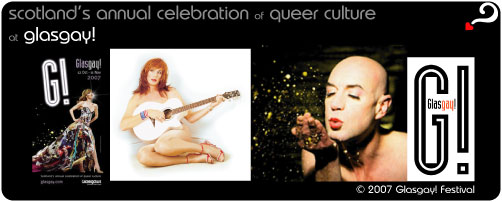 Had a look around The Merchant City and the best of Glasgay's venues? Well, whether or not you took that challenge, you now find yourself heading over to Glasgow's Financial District, right in the city centre. There are several places to check out, known and loved by locals. Remember to just take your pick, and enjoy.

Fizzy Sophistication near The Merchant City…
En-route to the Financial District, if you're in the mood for a decent glass of fizz, in a sophisticated bar that's truly loved by locals and only a five minute walk from the Merchant City, then get over to Vroni's on West Nile Street. I've taken friends and visitors to Vroni's on too many nights out to remember, and they always want to go back again to their candlelit, dark-wooded, green leather-upholstered booths.

Up For Staggering a Bit Further?…
As I mentioned, some of the Glasgay venues are outside the Merchant City. Let me start with The Arches Theatre, just because it happens to be the nearest to the Merchant City – mere minutes walk away on the outskirts of the Financial District, and surrounded by a host of places just waiting to welcome Glasgay revellers.

Get Into the Spirit of Things Under The Arches…
The Arches Theatre is tucked away (as the name suggests) under Central Station, and is a truly funky space, with several performance areas and the very nice The Arches Cafe Bar on the lower level. Even if you aren't going to a Glasgay performance, nipping in for a drink to check out the venue and underground atmosphere can be a treat in itself – there is usually a lot going on at The Arches.
On Friday 2 November, The Arches plays host to Burly!, the gay nightclub for the mature (over 25 years old) punters. This isn't part of the formal Glasgay programme but don't let that stop you. The theme is "Schlok Horror", but feel free to fear whatever you like, and be welcomed by bears and daddies dressed as vampires, undertakers and leathered-up muscle hounds. Sound like a blast!

People Watching Heaven…
Collage Corner Bar offers gastro pub food, a decent wine list and absolutely one of the best places for people watching in Glasgow. Situated slightly below street level, for some reason passers by fail to notice Collage patrons tucked under their knees. (Now, there's a thought!) On a busy corner near Central Station, there are plenty punters moving past your view, too.

Like Playing With Your Food?…
On the other side of the same block as the Collage Corner Bar is TaPaell'Ya on Robertson Street. It can also be entered via the SAS Radisson Hotel on Argyle Street. Be prepared for some of the most unusual and delicious tapas, in chic modern surroundings.

Or Fancy Something Spicy?...
Moving along Argyle Street one block brings us to Thai Orchid and very reasonably priced Thai delights from wait staff in traditional dress. Very sweet indeed.

Or Try a Tasty Italian?…
Of course, from The Arches, you could head on to La Lanterna a short distance up Hope Street on the left. This is another local gem. The entrance to this basement level restaurant keeps all its secrets – but head on downstairs to a charming little eatery that's designed to make you feel like you're al fresco somewhere charming in Italy. La Lanterna will be easy on the wallet too.

Pop On Your Beer Goggles…
Around the corner from La Lanterna there's Pivo Pivo on Waterloo Street. Take advantage of the more than 30 different beers and lagers behind the bar. Pivo Pivo is a real hidden delight. The entrance looks like nothing at all, but don't let that put you off. Head down the stairs and a whole new underworld of boozy choices waits.

It's playtime - with a Shop, Sip and a Chomp!...
It would be remiss of me not to mention Princes Square, just 5 minutes walk from The Arches. It's actually really close by to many of the central Glasgay venues so easy to pop in for some retail therapy. Princes Square was developed in the mid 1980s, and remains one of the beacons to glamour and good taste that is the regenerated Glasgow we all love so much. Trust me; you'll fall in love with Princes Square, no matter when you visit.
Expect great taste, fabulous places to shop, eat and drink, and a lively atmosphere that only Princes Square can deliver. There may even be live performances going on in the mosaic-lined basement, filling the vast atrium space above with music and laughter.
As promised, some shop, sip and chomp highlights to consider…
Fifi and Ally successfully combines funky and cool products, often with a wee camp-but-glamorous edge, with a nice place to sit sipping a cappuccino and munching tasty buns, planning your next Glasgay adventure.
My favourite place to visit in Princes Square is Barca Tapas Restaurant and Cava Bar. It might be the lush in me that means I'm drawn to any place with "Cava" in its name. Or it might be the amazing tapas on offer, coupled with the chance to watch what's going on in Princes Square. Then again, Barca is also great place to sit inside for some peace and quiet.
Buzzy Wares has been a Princes Square stalwart since it opened in 1986, transferring from the West End all the goodwill and charm of its previous incarnation as "Joe's Garage" (one for you folks with longer memories), and was recently refurbished to even-more resemble an American burger joint. The result is noisy, fun and very laid back.
If you have time in among your Glasgay plans, I recommend a wander around Princes Square. There are just so many shops and funky restaurants to tempt, I'm certain you'll be planning a return trip before long.
[CONFIDENTIAL] stay tuned for a special feature on the many leisures and pleasures in Princes Square coming soon from topsecretglasgow.com. Just leave us your email address and first name below and you'll be the first to hear about it when it goes live...


The (Almost) Secret Alley…
I have one last recommendation, while we're in this neck of the woods:
Bar Soba
in Mitchell Lane. If you can pull yourself away from Boss and the other designer stores on Buchanan Street, head into the well-hidden Mitchell Lane and Bar Soba is on the left, about half way along. Featuring wonderful cocktails and a great Asian-fusion menu with service and presentation to match, Bar Soba is a hidden gem. You're as likely to see office workers out for a quick post-work drink as a bunch of mates out for a night on the tiles. Add this one to your pre-party list for Glasgay.
Ready for another Top Secret Mission?... There are five in total to choose from...

Intro...
Glasgay! Scotland's Annual Celebration of Queer Culture
Top Secret "Missions"...
G! Explore Glasgow's Merchant City Magic
G! Yes, You Can Have Fun in the Financial District
G! Ride Out to the Wild West (End)
G! Sleep-off Your Excesses... and Stay Safe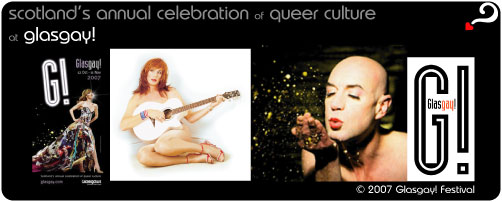 ---